Duration: 4 Days


Tour Type: Walking

Max. Altitude: 3,500 msnm


Group Sizes: +2


Fisica Level: Moderate
This walk is very impressive around the snowy Ausangate (6372msnm) and the mountain of seven colors. The worldview developed by the Incas, the Apu Ausangate was one of the most sacred mountains in the time of the Incas and is still today, this snowy mountain is located to the South East of the City of Cusco and way to the highlands, the lake Titicaca exit of the Incas in the legend of Manco Capac and Mama Ocllo. This walk offers us spectacular and majestic landscapes of the Puna region, our walk will be surrounded by snow-capped mountains, lagoons, South American camelids (llamas and alpacas) if we are lucky we can also see Vicuñas
DAY 1: Cusco Tinki – Upis 5:30 – 16:00
DAY 2: Upis – Abra Arapa- Pucacocha 7: 30- 16:00
DAY 3: Pucacocha- Abra Ausangate- Abra Warmisaya- Cocha Map 7:30 – 15:30
DAY 4: Map Cocha – mountain 7 Colors -Cusco 7:00 – 13:30 Bus to Cusco, arrival 18:30
FIRST DAY CUSCO UPIS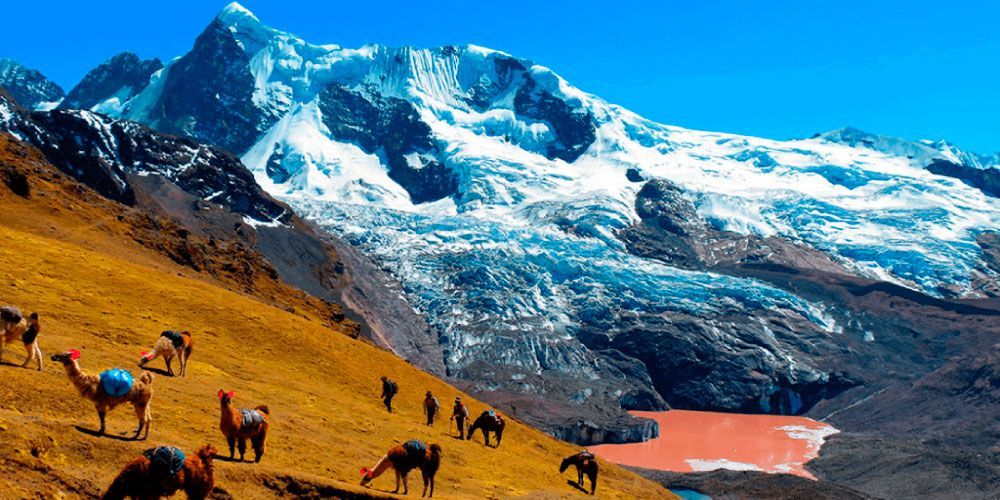 Pick up from your hotel in Cusco early 5:30 then we will go to the town of Tinki, start of our walk, in this place we will meet with our Arriero will be waiting with the horses that will transport the tents and feed for our walk The walk to our first camp, Upis, will be approximately four hours of moderate inclination. On the way we can see fields of crops, Shepherds of Llamas, Alpacas and typical houses of the area. The temperature is more frigid because we will approach the snow of Ausangate. Arriving at Camp Upis we have the option to enjoy Thermo Medicinal Waters before dinner. The camp is 4350 meters above sea level, we will spend the night.
Duration of the walk 4 hours
Food A, C.
SECOND DAY: UPIS – ABRA ARAPA – PUCA COCHA
After an early Andean breakfast, we will continue our hike to Abra Arapa at 4750 masl. The climb will take approximately two hours, in the course we will enjoy panoramic views of the majestic Ausangate Snow and its surroundings, From the Abra we will descend along a cliff that divides the mountains, with views of different colorful lakes, in the Yanacocha lagoon We will have lunch, after a break we will start the walk towards the lagoon of Puca Cocha where we will camp.
Duration of the walk: 5:30 hours
Feeding: D, A, C.
THIRD DAY: PUCACOCHA – ABRA AUSANGATE – ABRA WARMI SAYA – MAP COCHA
After an early breakfast we will ascend to Ausangate Abra 4850 masl from where we will observe impressive landscapes, valleys and snow-capped mountains, in some times we can observe condors and vicuñas in this part. Later we will descend to the place called Anante where the cook waits for us with a nutritious and energetic lunch after a short rest, we will cross wide valleys and colorful hills, then we will ascend to the Warmisaya pass at 4950 masl from this point we can observe the colorful mountain, after relax we will descend to our camp in Mapacocha.
Hike: 5: 30hoursAprox.
Feeding: D, A, C.
FOURTH DAY: MAP COCHA- MONTAÑA DE 7 COLORES – CHILLIHUANI – CUSCO
Very early after breakfast we will start the walk to visit the mountain of 7 colors or the colorful mountain, we will have the possibility to arrive before several people arrive, to be able to enjoy Nature to the fullest, after making the visit we will descend to the Chillihuani where we will have lunch and We will take the bus to return to the City of Cusco, likewise at this point we will say goodbye to the Arriero
IT INCLUDES
Transportation Cusco – Tinki. (Start of trek) – Cusco
Ausangate Tour
Color Mountain Tour
Professional bilingual guide (English – Spanish)
Entrance tickets
03 Breakfasts -03 Lunches -03 Dinners
Chef
First aid kit
Arriero and Horses
Camping Equipment "Waterproof Triple Stores for every 02 people and personal Matras" – Dining, Kitchen and Bathroom Shops
Return bus Chillihuani – Cusco
Summary
Brand Name
Product Name
Ausangate + Mountain of Seven Colors 4 Days 3 Nights "Premium"