Do you want to know the spaces available for the Classic Inca Trail in 2019-2021?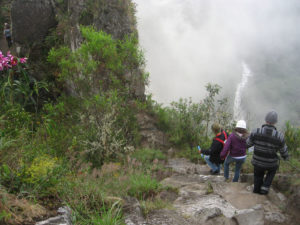 The spaces for the Classic Inca Trail in April 2021 are not yet officially on sale, but you can now make your pre-reservation by contacting us. Authorized travel agencies like ours can insure tickets before the start of the official sale, which will be only in October 2019. Inca Trail Avalability 2021
Availability Classic Inca Trail April 2021.
The  free spaces will begin to decrease very soon, so we recommend you to make your pre-reservation as soon as possible. If there were no free dates on the days that you want, we suggest looking for different possible dates. On the other hand, we also have adventure tours to Machu Picchu that can be booked more easily: the Salkantay Trek – 5 Days and the Lares Trek – 4 Days . Finally, we have unforgettable guided tours to Machu Picchu , with daily departures, therefore, greater availability.
You can also see the Inca Short Trail – 2 Days , a milder version of this adventure trek.
Get to know the Classic Inca Trail 4 Days!
A series of adventures. If you talk about trekking in South America, definitely the most important is the Classic Inca Trail! An ancestral route with length of 43 kilometers, whose route is made by different and unforgettable landscapes including high mountain, subtropical forest, humid forests, Inca archaeological complexes and more. At the end of the journey you will find the citadel of Machu Picchu. A truly world-famous adventure!
Prepare a little! But first, due to the medium difficulty of the route, we recommend a physical preparation for the hike. To know more about this spectacular hike, you can read our article about the highlights of the Classic Inca Trail .
Climate Cusco in April
The stations defined are two. Each year we have two seasons: dry, in autumn-winter, from April to October and the rainy season that starts in November and ends in March (spring-summer). The dry season tends to be quite cold, especially between June and August, with little or no rain (although it is always necessary to bring a waterproof jacket). Since the rainy season is a little hotter, it obviously requires the rain jacket and also thick clothes for some nights.
By April 2021 . The weather starts to cool, as we enter the fall of the southern hemisphere and we also have some rains that close the season, are not very long and generally occur once a week. During the nights, it is also necessary to have warm clothes, as temperatures tend to fall, now with more rigor. You should bring the right clothes and always a rain jacket or rain poncho. We have a detailed article on the climate of Cusco , which will undoubtedly be very useful, Inca Trail Avalability 2021.
Expert baggage for the Classic Inca Trail
Make an excellent backpack! Finding good information on what to take to the Inca Trail 4 Days can be laborious, so we have made available to our customers a list of things that are really useful for this adventure. That way you will avoid carrying unnecessary things and you will enjoy this experience much more. We are sure that the luggage list for the Inca Trail will be very useful. On this website you will also find all the additional information you need to have a perfect adventure in the Andean-Amazonian heights, Inca Trail Avalability 2021.
Make your pre-booking now!
Check availability Inca Trail April 2021, and if you find the exact dates for you, we invite you to make your reservation as soon as possible and take the first step to an extraordinary adventure.
What to bring in your backpack to the Inca Trail
Passport and/or ISIC card (if you are a student).
Suitable backpack for hiking days & rain cover.
Personal sleeping bag.
Walking sticks, these must have a rubber tip.
Shoes suitable for walking with ample support at the ankle.
Light clothing for walking: hat, shorts, polo shirts or light shirts.
Warm clothing for cold nights, long-sleeved shirts, sweaters and a hat and gloves.
Insect repellent.
Sunscreen.
First aid kit: small towel, toilet paper, etc.
Raincoat and/or umbrella.
Camera and / or film camera.
Flashlight.
Extra batteries.
Medicine and/or articles for personal use (pair of bandages, cream for muscular pain, pills for altitude sickness, fever, stomach discomfort).
Book, notebook & pen.
Extra money in small denominations.
The city of Cusco is another great adventure!
A place with millenary history. An excellent suggestion is to make the Cusco City Tour , which will take you on an unforgettable tour of the most important historical and archaeological sites. Also, we recommend reading the article about 20 things you can do in the city of Cusco , which is a brief guide to many activities you can enjoy in our capital. Most visitors who come to the Inca Classic Trail are in the city before and / or after, and take the opportunity to get to know it better, Inca Trail Avalability 2021.
Frequently Asked Questions for the Inca 2021 Trail