There is a lot of information about Peru, however, there is very little updated as a guide to Machu Picchu for 2021.
Where can you find Machu Picchu?
Before going to Machu Picchu Travel Guide, you will have to get to the small city at the foot of the mountain. This town is known as Aguas Calientes, while some locals may also call it Machu Picchu Pueblo.
There is no direct road to Aguas Calientes. You will have to use several methods, including the car, the train or even walking (not too much).
Our Machu Picchu travel guide begins Upon arrival, and after a quick rest, you can hike up from Aguas Calientes to reach Machu Picchu at the top of the mountain. Be sure to include your transport to Aguas Calientes through your Machu Picchu reservations, as it is basically the gateway to the stone city.
How you get there depends on your personal preferences, you can choose between a walk or a bus ride to Machu Picchu.
You will need a ticket to enter Machu Picchu, these can be purchased online in advance or at various ticket offices in Cusco, but are in short supply.
There are only 2500 available per day, with entrance to Huayna Picchu and Machu Picchu Mountain each having even less with 400 per day.
Please note that these tickets cannot be purchased at the door of Machu Picchu and may sell out weeks in advance, so we recommend that you purchase your Machu Picchu tickets well in advance.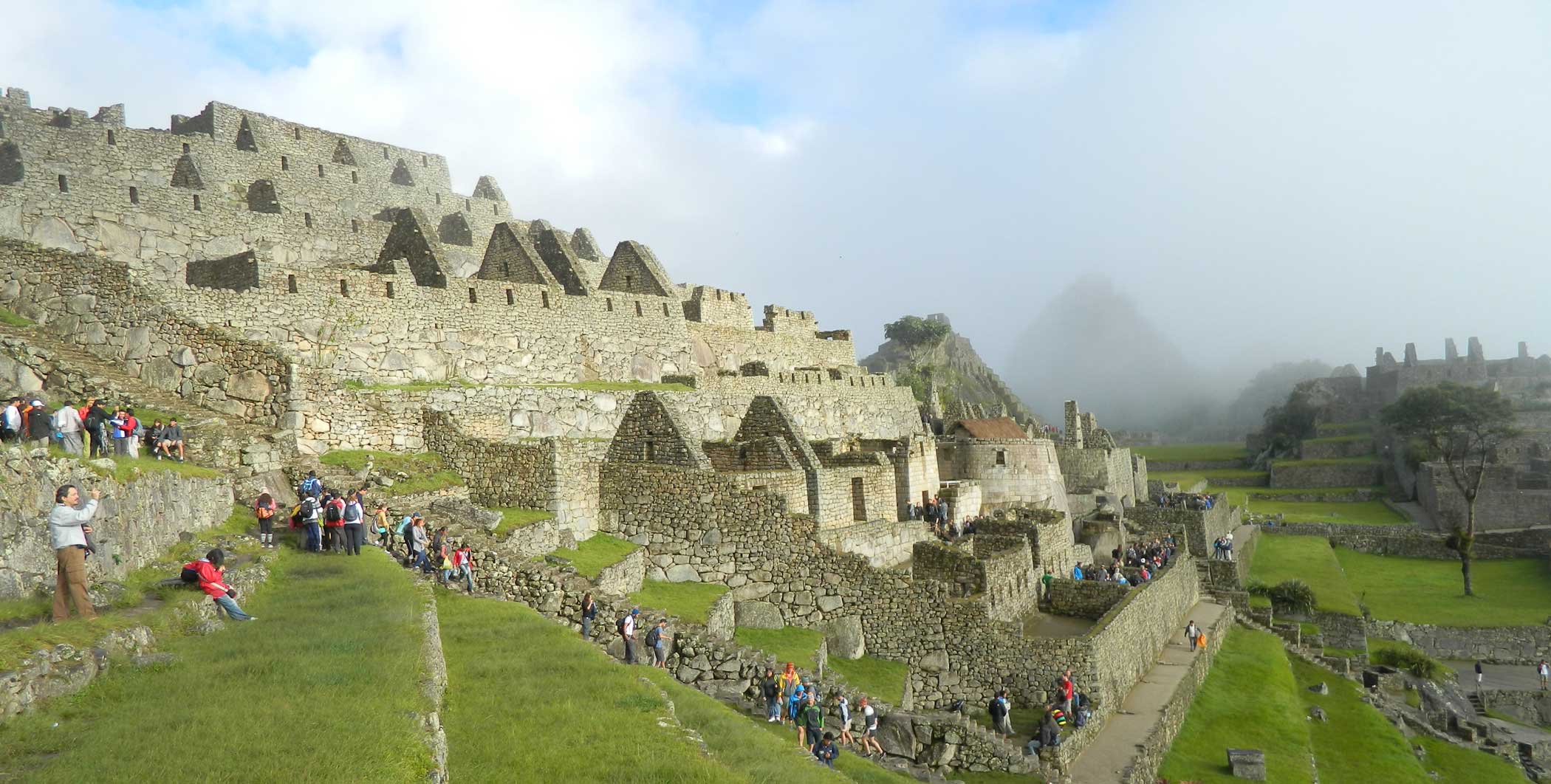 Huayna Picchu Mountain
The next part of our guide to Machu Picchu has to do with the highest peak in the area. The most sought-after hike within Machu Picchu, the peak of Huayna Picchu mountain is lined with Inca structures that turn towards the summit at 2,720 m.a.s.l.
Most travelers take between 45 minutes and 1 hour and 30 minutes to reach the top of the mountain, depending on their physical condition.
The views from the summit are truly out of this world with a backdrop consisting of ancient temples and lush vegetation with Machu Picchu at its center.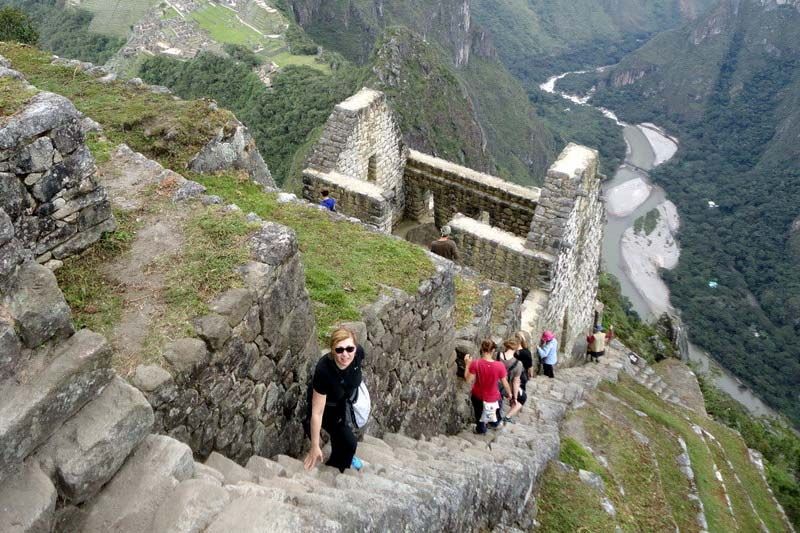 Machu Picchu Mountain
Another amazing peak you can include as part of your Machu Picchu excursion would be «Machu Picchu Montana» which is located in the southwest corner of the citadel.
It is a little longer than the Huayna Picchu, less crowded and much less difficult, but it offers incredible views of the surrounding area. It can take from 1 hour and 30 minutes to 2 hours to reach the top.
They are different from each place that lie in their designs, Huayna Picchu mountain is a straight vertical hike and the other mountain is winding around the mountain.
Hiking options to Machu Picchu
The classic Inca Trail
The best known, and some say the most popular, trek in South America and in the world, the Classic Inca Trail offers 4 days of trekking along Inca trails, a group of incredible Inca sites and the breathtaking beauty of Machu Picchu.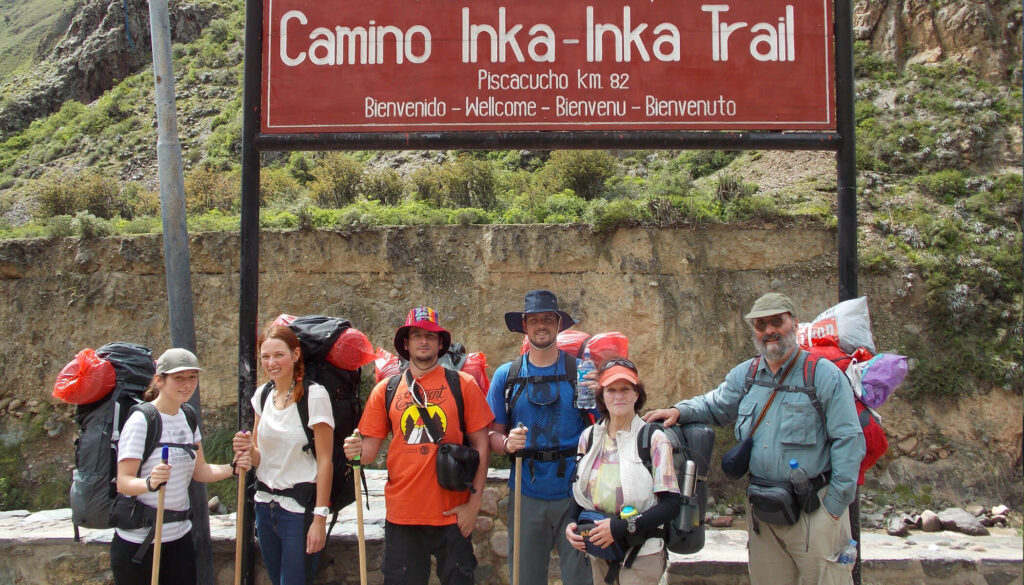 This trek to Machu Picchu is on the list of all travelers, probably number 1. We recommend booking your places at least 3 or 4 months in advance, and some times of the year are so in demand that you should book your places 6 or 7 months in advance.
It is very true for the following months between May, June and July. Keep in mind that the Inca Trail route is under maintenance in the month of February.
Due to maintenance activities, especially because of erosion, the Peruvian government limits the number of spots for the Inca Trail to about 500 per day.
However, about 150 to 180 of these points actually go to the guides, porters, and maintenance staff. Try to book as far in advance as possible.
Prices on the Inca Trail vary greatly, be sure to check here for the best information and prices.
Machu Picchu Travel Guide by Andean Peru Treks
The Salkantay Trekking – Machu Picchu Travel Guide
This one is for hikers with a little more experience. This 4 or 5-day hike takes you through the Cordillera Vilcabamba where you will discover the sister route of the Classic Inca Trail to Machu Picchu.
Along the way, you will encounter Salkantay Mountain, the second largest mountain in the entire Cusco area (second only to Ausangate) and is said to be the «guardian» between the mountains and the jungle.
Crossing a pass between the peaks of the immense mountains, Salkantay (6270m) and Humantay (6070m), you will see some magnificent views of the glacier and the extensive river valleys that cover this incredible landscape.
The Salkantay Trek was even named one of the best treks in the world by none other than National Geographic magazine. The Salkantay is available year-round and has a much higher point limit than the Inca Trail.
As with the Classic Inca Trail, prices vary according to the size of the group and some extras – see more information about the Salkantay Trek here!
The 2-Day Inca Trail
An excellent alternative to the Inca Trail. It takes you off the beaten track with visits to authentic Andean communities while surrounded by breathtaking mountains, lakes, and valleys.
IMPORTANT NOTE: If you are still deciding how to get to Cusco you can contact us for more information.
Walking through Cusco can be amazing, but we know that many travelers prefer to go a different route. The following are some alternatives to get to Machu Picchu: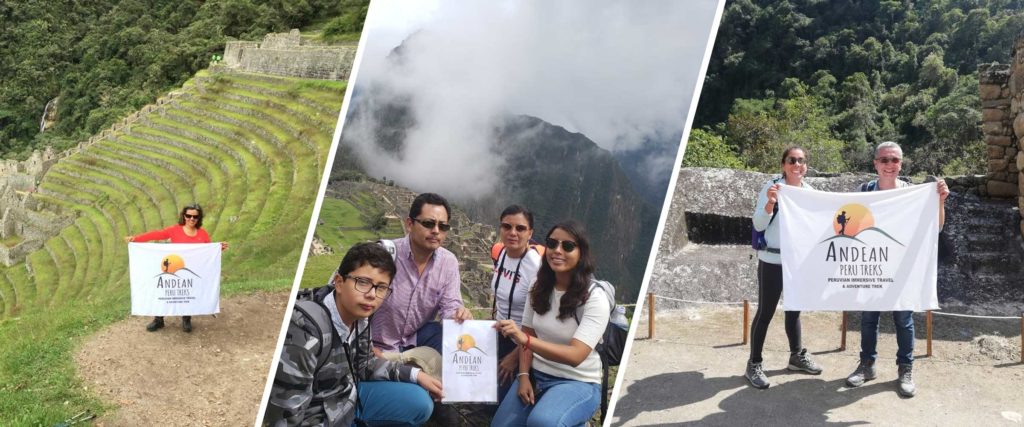 MACHU PICCHU BY TRAIN
2-day train itinerary
The most common way for non-hikers to reach Machu Picchu is by train. Most simply take an early train to Aguas Calientes, have lunch and rest the rest of the day.
They then travel to Machu Picchu and spend the night there before starting early the next day, climbing the mountain to the ruins or boarding the shuttle bus that leaves every two minutes.
Taking one of the trains back to Ollantaytambo before being taken back to Cusco in a mini-bus is a popular option for visitors.

One-day Train Itinerary
Many travelers choose not to visit Aguas Calientes , in order to catch the train out of Ollantaytambo and arrive at the sunrise of Machu Picchu mountain.
They then take the shuttle bus to the entrance and spend a few hours checking out the citadel before returning to Cusco.
Both methods are viable and train options vary greatly. There are three types of train that can be taken, these include the Expedition, the Vistadome, and the Hiram Bingham.
We recommend taking the Vistadome as you will get the best views without breaking the bank.
2 days of Bus/Hike
If the trains don't suit your style, you can always take a special bus route that runs from Cusco to «Hidroeléctrica» (the last train stop before Aquas Calientes) via Santa Maria in both
This may seem a little more hectic as you will be traveling on paved and dirt roads. Once you arrive at this place you will have to walk for 2 or 3 hours, following the train tracks, until you reach Aguas Calientes.
You will arrive a little later in the day, so we suggest you spend the night there to rest. Then you will climb the mountain up to the entrance gate of Machu Picchu and start your tour around the ancient citadel.
After exploring the area, you will return by the same route through a long walk back to the Hydroelectric and then transport back to Cusco.
We do not recommend this method of getting to Machu Picchu as it can be a little dangerous due to the dirt roads and mountainous terrain.
Extras of Machu Picchu
One of the best memories of your trip to Machu Picchu is the passport stamp you can receive when you enter the main gate. Best of all, it only costs S/.1 (about 35 cents) to get it.
Machu Picchu Luggage List
The most important thing to carry is your passport, as you cannot enter without it.
Don't forget to bring the tickets for Machu Picchu and Machu Picchu / Huayna Picchu Mountain, you have no idea how many people forget them at their hotel.
Be sure to bring some extra money for lunch, souvenirs, as well as if you think you will need to use the bathroom.
A camera (self-adhesive if necessary).
Good shoes for walking or hiking.
Bottled water.
Some snacks.
Sunscreen and/or a small folding umbrella, depending on the weather.
What not to bring to Machu Picchu
Do not take tripods as they are not allowed in the historical site.
Definitely do not carry professional cameras as you need a permit from the local authorities which can cost up to $300.
Leave your backpacks at the hotel, they are not allowed inside Machu Picchu. However, you may carry small backpacks or bags for personal items. Most hotels in Aguas Calientes will take care of your things for a small fee.
Canes are not allowed unless the person needs them for a physical problem.
Safety tips at Machu Picchu
Whether you are traveling alone or with a group of friends/family, make sure you are with your guide at all times.
Avoid traveling to Machu Picchu during the months of January and February, as the weather can be a little problematic for safety.
Make sure you travel with a reliable tour operator.
As in all tourist sites, keep an eye on your valuables.
Frequently asked questions: Machu Picchu Guide
How to Get to Machu Picchu
You can go to Machupicchu by bus, train or even walk there if you have a budget. You can also make your way on the classic Inca Trail, the Salkantay Trek or the 2-day Inca Trail.
What is Machu Picchu?
It is one of the ancient wonders of the world and the most incredible Inca ruin in all of South America. It was named Cultural and Natural Heritage of Humanity by UNESCO in 1983 and is one of the most sought-after tourist destinations in the world. It consists of a series of perfectly sculpted stone temples that are found in terraces along the mountain, archaeologists are still not sure how the Incas were able to create such elaborate stone structures.
How high is Machu Picchu?
Machu Picchu is about 2,430 meters, or about 8,000 feet above sea level. That is why we always recommend that you spend a few days getting used to the altitude before going on any tour of Cusco.
How can I get tickets for Machu Picchu?
Tickets are sold on the official government website, can be paid for with credit or debit cards and are NOT sold at the door. We at Andean Peru Treks can take care of any and all reservations needed for your trip to Peru and Machu Picchu.
When should I visit Machu Picchu?
The most recommended season to visit is during the dry season, you have to visit between May and also June.
That is all the basic information you need to know when you travel to Machu Picchu. Do you want to know more about Peru, Cusco and Machu Picchu Travel? Be sure to follow us on TripAdvisor, Instagram, and Facebook.