Lares Trek 4 Days to Machu Picchu.- In the last day we will make your dreams come true, where you can enjoy a new day of observing the sunrise in Machu Picchu and explore the incredible city of Machu Picchu with the guidance of your professional guide in your language; An incredible alternative to the traditional Inca Trail, and easier than the trek by Salkantay Trek.
Useful Information:
Starting altitude – 2800m / 9186ft.
Highest altitude – 4780m / 15,682 feet.
Walking distance – 34 km / 21 miles
Longest day – Day 1, approximately 14 km / 8.7 miles
Coldest night – Day 1 around 0º Celsius
Overall Difficulty: Moderately difficult (depends on your fitness level).
Acclimatization is recommended ***
Day 1: Cusco – Pisac Inca ruins – Huaran – Canchacancha.
To begin the tour we will pick you up from your hotel or lodging at 5:00 am to begin our expedition to the Lares Valley; Also we can pick you up from any hotel in Cusco or the Sacred Valley itself to start your trek. We will go by car for an hour to the Inca ruins of Pisac; Where we will be able to explore this incredible Inca city, our tour guide will give you a brief talk about the history of this Inca city, here we will enjoy breakfast with the incredible views of this Inca city and the natural valleys of the area.
Then we will continue our expedition by truck for another 40 minutes to the town of Huaran.
When we arrive we will meet with our riders and horses to begin our trek gradually for 3 hours until the area of ​​Canchacancha, where we will have lunch our fresh and delicious lunch prepared by our professional chef.
After a short nap, we will explore the most isolated community in the area called Canchacancha and where we can visit the people of the area where we can interact with it, here we recommend to bring some toys or clothes for the children of the area, they will always be grateful Of receiving them.
After learning about the lifestyle of these local people, we will walk for another 2 hours to reach our first camp.
Here we will arm our tents, and you can enjoy afternoon tea appreciating the incredible views of the snow-capped mountains and green valleys. After dinner, the guide will show you the constellations of the Incas, such as the famous cosmic constellations of the south, orion and many others.
These were very important in the time of the Incas by their agricultural seasons and still today they are very important for the local population.
Meals we provide: Breakfast – Lunch – Tea time – Dinner
Included Accommodation: Camping Facilities
Distance traveled during this day: 12km / 7 miles
Walking time: approximately 6 hours
Difficulty: Moderate
Day 2: Cancha Cancha – Quishuarani
After a nutritious and delicious breakfast, we begin our trek northeast to the valley, the trek will take approximately 4 hours to reach the highest point of our walk called Pachacuteq (4700 mt / 15420 ft).
Here we will enjoy breathtaking views of glaciers, lakes, wild flames, steep valleys and farmland. Here we can appreciate the views in 360º, we begin the descent towards our site for lunch, approximately 1 hour of descent next to a glacier lake, with breathtaking views of the valley of Lares where we will be accompanied by llamas and wild alpacas.
After a short nap we will start walking for another 2 hours to our camp located in the community of Kiswarani (3700 mt / 12,139ft). On the way to Kiswarani we will be able to interact with local people who will be grazing llamas and alpacas in the local language "El Quechua". (Inca language).
The Tourist Guide will help you understand what the natural people of the area say and take a nice experience. You can also enjoy an impressive waterfall. In the camp, the shops will be ready and we can enjoy a tea and dinner to rest in our tents
Meals included: Breakfast – Lunch – Tea time – Dinner
Accommodation on this day: camping facilities with comfortable tents, inflatable mattresses, blankets, pillows
Distance traveled: 14km / 10.3 miles
Travel time: approximately 8 hours
Difficulty: challenge
Day 3: Quishuarani – Cuncani – Lares – Ollantaytambo – Aguas Calientes
This will be the most memorable day with this incredible new adventure! We will hike  for approximately 3 hours until reaching the Port of Hullkiccasa (4200 m / 13779ft). Here we will enjoy the view of beautiful views of the lagoons that look like giant mirrors.
Then we will trek for another 2 hours, where we will be able to appreciate the cultivated lands of the people of the area and we will be able to appreciate the lagoon of the Community of Cuncani, here we will be able to visit the local school and we will play with the students of the highlands. Then we will take our vehicle to Lares hot springs where we can relax in these waters of volcanic origin for an hour, then have lunch and take a short nap.
Here we will leave our cook and the horse rider, then we will take our vehicle for two hours to Ollantaytambo, where we will have our dinner in a well known tourist restaurant in the area; At 19:00 we will take our train to Aguas Calientes (Machu Picchu Pueblo) where we will spend the night in the Hotel
Meals Included: Breakfast – Lunch – Dinner
Accommodation included: The hotel president, Machu Picchu hotel or similar
Distance traveled: 15km / 9.3 miles
Travel time: approximately 6 hours
Difficulty: Moderate
Day 4: Aguas Calientes – Machu Picchu – Cusco
After a so nutritious breakfast, we will take one of the first vehicles (around 5:30 am) for a magnificent expedition to Machu Picchu where we can appreciate the sunrise over the incredible Inca city.
You will be able to explore the incredible citadel of Machu Picchu during the next 2 hours with your private guide who will give you a talk about the fascinating history of this charming Inca city. After the tour you will have time to continue exploring, take many photos and the option to climb the Huayna Picchu Mountain or climb to "Puerta del Sol" before returning to Aguas Calientes for lunch in the afternoon.
At 16:22 we will take the train back to Ollantaytambo, and then a private vehicle will take us back to Cusco where it will be transferred to your hotel around 20:00.
Meals included: Breakfast
Difficulty: Easy
Included in the Lares Trek to Machu Picchu 4 days
Transfers at the beginning and end of the tour
Transportation Cusco Lares Town.
Professional Guide in your language.
Assistant Guide (for groups of 9 or more)
Entrances to Machu Picchu.
3 breakfasts, 3 lunches, 3 snacks in the afternoon, 3 different dinners and to eat snacks all day "does not include breakfast and lunch on day 1 after breakfast on the last day (day 4)"
Chef (Professional Chef) Vegetarian option on request for free!
Drinking water along the Inca Trail, we include snacks
Dining room with tables and chairs
First aid box
01 oxygen ball
Horses (to carry groceries, food and cooking utensils)
Carriers
Goalkeepers (to carry the canvas bags)
Waterproof shops "02 people per tent"
01 mat per person
Tourist bus from Machu Picchu to Aguas Calientes.
01 night in hotel in Aguas Calientes.
Train to Machu Picchu Pueblo
Train tickets at Expedition Services (Machupicchu.Ollanta and bus to Cusco) and transfer to the hotel.
Not Included in the Lares Trek to Machu Picchu 4 days
Sleeping Bag – Additional US$20 per person per trek (It will be clean and warm)
Air Mattress – Additional US$20 per person per trek (Therm-a-rest mattresses)
Walking Poles – Additional US$15 per pair per trek (Professional Poles that can be extended)
Personal tent: Additional US $30 – (Please request when you book your Trek)
Vistadome Train Upgrade – Additional US$57 per person (For the return to Cusco)
Huayna Picchu Mountain – Additional US$35 per person (Please request when you book your Trek)
Machu Picchu Mountain –  Additional US$30 per person  (Please request when you book your Trek)
Lunch on the last day in Aguas Calientes
One way bus ticket from Machu Picchu back to Aguas Calientes – It can be hiked in one hour
Packaging List Lares Trek to Machu Picchu 4 days
Original passport (International Student Card (ISIC)
Immigration Card (given on the plane as you enter Peru)
Mountain hiking boots
Jacket or poncho to protect against rain
Warm clothes for the cold of the walk
2 T-shirt
2 hiking pants at least
4 sets of undergarments
3 sets of hiking socks
Small bottle of soap: we provide warm water each day to wash.
Portable Battery Charger: No electricity along the trek
Comfortable trousers
Sun hat
Sunglasses with UV Protection
Sunscreen (35 factor recommended)
Reusable plastic bottle or metal water container or canteen.
Water (only needed for the first 4 hours of the walk, then we will provide you with the water you will need
Insect repellent (there are mosquitoes on the walk)
Toiletries (Toothpaste, Shampoo, etc)
Personal medication
Additional photo camera, memories and batteries (We recommend a GoPro or Smartphone for being light and easy to carry)
Flashlight with spare batteries (preferably headliners)
Extra Money for Souvenirs, Drinks & Tips
Enjoy this Lares Trek to Machu Picchu 4 days
Travel Notes Lares Trek to Machu Picchu 4 days
OPTIONAL UPGRADES
VISTADOME TRAIN from Aguas Calientes to Ollantaytambo: US$57 per person
La Cabaña Hotel: US$40 per person
Tierra Viva Hotel: US$70 per person
El Mapi Hotel: US$120
Additional Night in hotel in Aguas Calientes – From US $60 (depending on choice and availability)
Medical tourism is a type of tourism that is gradually acquiring a greater number of followers, and has in the Peruvian territory an impressive range of resources from which to choose, since if there is something that abounds in all regions of the country , They are these source that, besides relaxing and releasing of the stress to the visitor, they are able to relieve as much suffering as it can have.
The Thermal Baths of Lares, are one of these thermomedicinal resources that the traveler will be able to enjoy when he goes to a region like Cusco. These thermal baths, as the name implies, are located in the district of Lares, which is located in the province of Calca.
The Thermal Baths of Lares are formed by a group of four swimming pools. These are fed by waters that are tempered to different degrees. The temperature of the thermal pools of Lares fluctuate between 36 ° C and 44 ° C and the pools have dimensions of between 17 m2 and 120 m2, with depths that do not exceed the meter and a half, making it suitable for a greater number Of visitors.
These thermal baths are visited by the properties that present their waters, which besides offering comfort and stress relief are able to alleviate certain ailments. This is achieved thanks to the fact that the waters of these Thermal Baths of Lares are fed by minerals such as sodium, potassium, magnesium, calcium, iron, zinc, among many others, which combine to combat diseases such as arthritis , Osteoporosis, besides contributing to the rehabilitation of broken bones, to fight muscular, stomach problems, among many others.
In order to arrive to the Thermal Baths of Lares, the visitor has to travel from the city of Cusco to Calca, this route can take approximately an hour and a half, and can be done in a public bus, this usually charges approximately S / 4.00 per passenger. Already in Calca takes a combi that in two hours leaves in the district of Lares, the cost of this vehicle usually does not surpass the S / 10.00. From Lares you should only follow on foot for about 1 km to the thermal baths. This last tour can be completed in only fifteen minutes, depending on the physical conditions of the visitor, if you want, you can also rent a taxi.
Whoever visits the Thermal Baths of Lares should bear in mind that the only tourist infrastructure that exists in the place are the thermal baths, and that the closest services can only be found in the city of Calca and in Lares, despite these inconveniences, the environment Which own the Thermal Baths of Lares are more than suitable for camping, so the traveler will have the opportunity to enjoy for a longer time the benefits of these waters.
In order to access the Thermal Baths of Lares, the visitor has to make a payment whose cost varies between S / 3.00 and S / 5.00. Visits to these thermal baths can be done at any time of the day.
Summary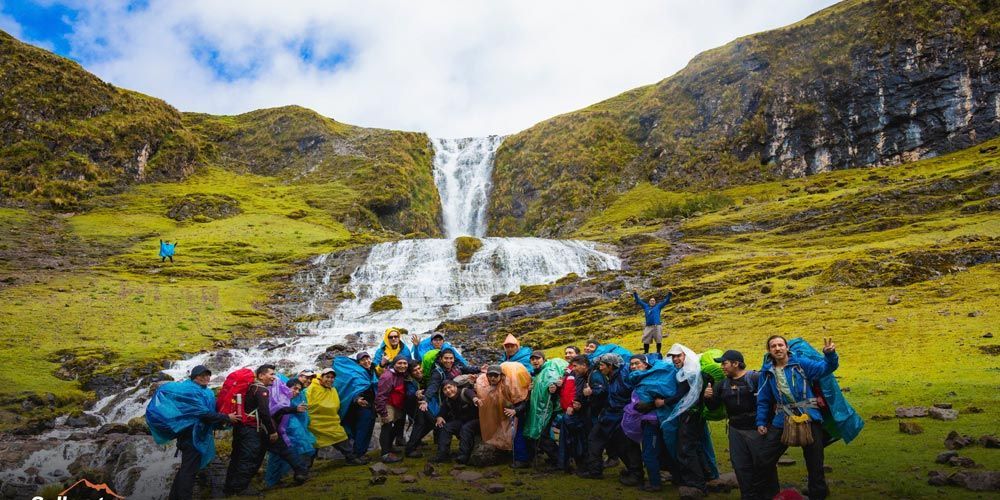 Brand Name
Product Name
Lares Trek to Machu Picchu 4 days / 3 nights