Duration: 2 Days


Tour Type: Walking

Max.Height : 2,430 msnm


Group sizes: +2


Fisica Level: Intermediate
Machu Picchu Short Inca Trail 2 Days.- This version of the Short Inca Trail, 2 Days / 1 Night, start in 104 km, located at 2,100 masl. (Leaving by train from Ollantaytambo). It is a 10-kilometer hike to Machupicchu, where you will enjoy spectacular views of high Andean landscapes and the eye of Amazon rainforest visiting Inca constructions along the route (Chachabamba, Choquesuysuy).
We start the uphill trek for 5 km gradually to the Inca Complex of Wiñaywayna, located at 2,700 masl. (Impressive Inca citadel, Wiñaywayna means "Forever Young" in Quechua, The agricultural terraces called "Andenes" surround the entire mountain, decorating this ancient Inca castle with temples, shrines, buildings, and water canals. In quality and its masonry is fine, its 15 ritual Water sources descend as one advances.
It was a religious center, probably associated with ritual worship of water, plants, nature, and life. -3 hours on the way to Machupicchu by a spectacular cloud forest and white granite path, hidden between the beauty of the mountains and the lower sub-tropical valley. We heard the sounds of hummingbirds and "Gallitos de las Rocas" we hike with few people at this time until arriving at the Sun Gate. "Inti-Punku", we will have unique views from the top of this mountain, and then we will descend by safe stairs for 40 minutes, to be in front of this majestic place "marvel", we will appreciate the sunset, and then we descend to the entrance of the citadel, to board a bus to go to the town of Aguas Calientes. Accommodation In the hotel of your choice, Dinner, rest and we make plans for tomorrow.
Overview Machu Picchu Short Inca Trail 2 Days
The 2 day Inca Trail is a fantastic option for those who don't have the time or desire to hike the full length of the Inca Trail. With beautiful scenery, a wide variety of flora and fauna on display and a visit to the Inca Trail's most beautiful site (Wiñay Wayna), you get to enjoy the all the best bits of the Inca Trail condensed in to a one day walk. Covering a distance of just 10km / 6.3 miles the 2 day Inca Trail is not too challenging which makes it perfect for families with children and  those on a tight schedule.
Machu Picchu Short Inca Trail 2 Days.- There is no way to explain the surpise of that "woow woow" when after a four hours steep walk upwards, crossing the path of the second most important Inca site "Wina Wayna", (which by the way) is beautiful and well worth the climb you scramble up a steep flight of stairs and  then your breathe is truly taken away at the Sun gate.
Machu Picchu Short Inca Trail 2 Days.- The next day, after breakfast, at 05:30 we boarded a bus to Machupicchu for our full guided tour and day of exploration. Our expert guide will help you to better understand Machupicchu. Then they will have free time to explore for themselves, to take pictures, to contemplate this magical place, or just to meditate before such a wonder. If you are interested in climbing the mountain Huaynapicchu you need reserve in advance.
After our extensive visit to this magical place we will go down to Aguas Calientes (25 minutes), take the lunch (optional), and then our return train from Aguas Calientes is at 18:20. Arriving at the Ollantaytambo Train Station at 8:20 pm, transfer to Cusco for 1.30 hrs.
Day 1: Cusco – Ollantaytambo- Km 104 Chachabamba- Wiñay-Wayna- Machupicchu-Aguas Calientes.
Short Inca Trail 2 Days.- Pick up from your hotels at 4:00 am to transfer you for a 2 hour trip, with private transportation to the train station in Ollantaytambo.
We will board the Expedition Train, we will travel by train for an hour and 45 minutes to Km 104 (Start of our trek.) (It is worth the effort to get up early and go with this train, which allows us to enter and start our trek early, if we wait for the In the Km 104 after presenting passports in the control, we began to trek gently to about a few kilometers of the city of Ollantaytambo, Meters from the Vilcanota River.
On the way we will see the ruins of Chachabamba, an in-situ stone altar that served to worship the sun and the mountains, still venerated by local people. After visiting Chachabamba, we will continue the trail towards the south and begin a gradual climb to the mountain, before entering a forest of clouds and with a lot of vegetation, soon the trail leaves to the forest and goes towards the west, while we continue uphill In an open meadow. After walking for 3 hours, the path descends into an amazing forest. Here we will find a beautiful waterfall, then we will reach the bottom of the Wiñaywayna ruins.
We will appreciate the beauty of this site, complemented by the information of our expert guide. After our box lunch in Wiñaywayna, we will continue in the evening in the cloud forest, full of bromeliads, orchids, and fern trees.
As we walk this last part of the way, we will go through many impressive features like stone stairs and tambos ("resting places"). You will climb 60 stairs before arriving at Inti Punku ("the sun gate"). From this point, you can contemplate and observe this wonderful place. Then we will descend for 45 minutes until we reach the part of the famous viewpoint, from here you can observe the sunset. We will descend to the entrance of Machupicchu where we will board the bus to Aguas Calientes. Dinner included, rest, plans and arrangements for tomorrow. The thermal baths are a good option (bring your swimsuit and 10 soles).
Meals: Box lunch and  Dinner
Accommodation: In Muyurina Hotel
Maximum Altitude: Maximum Altitude: 2680 meters / 8792 feet
Minimum Altitude: Altitude Minimum: 2100 meters / 6888 feet
Distance Travelled: Distance traveled: 10 kilometers approximately
Approximate Walking Time: Approximate Walking Time: 6-7 hours
Day 2: Aguas Calientes-Machupichu- Ollantaytambo- Cusco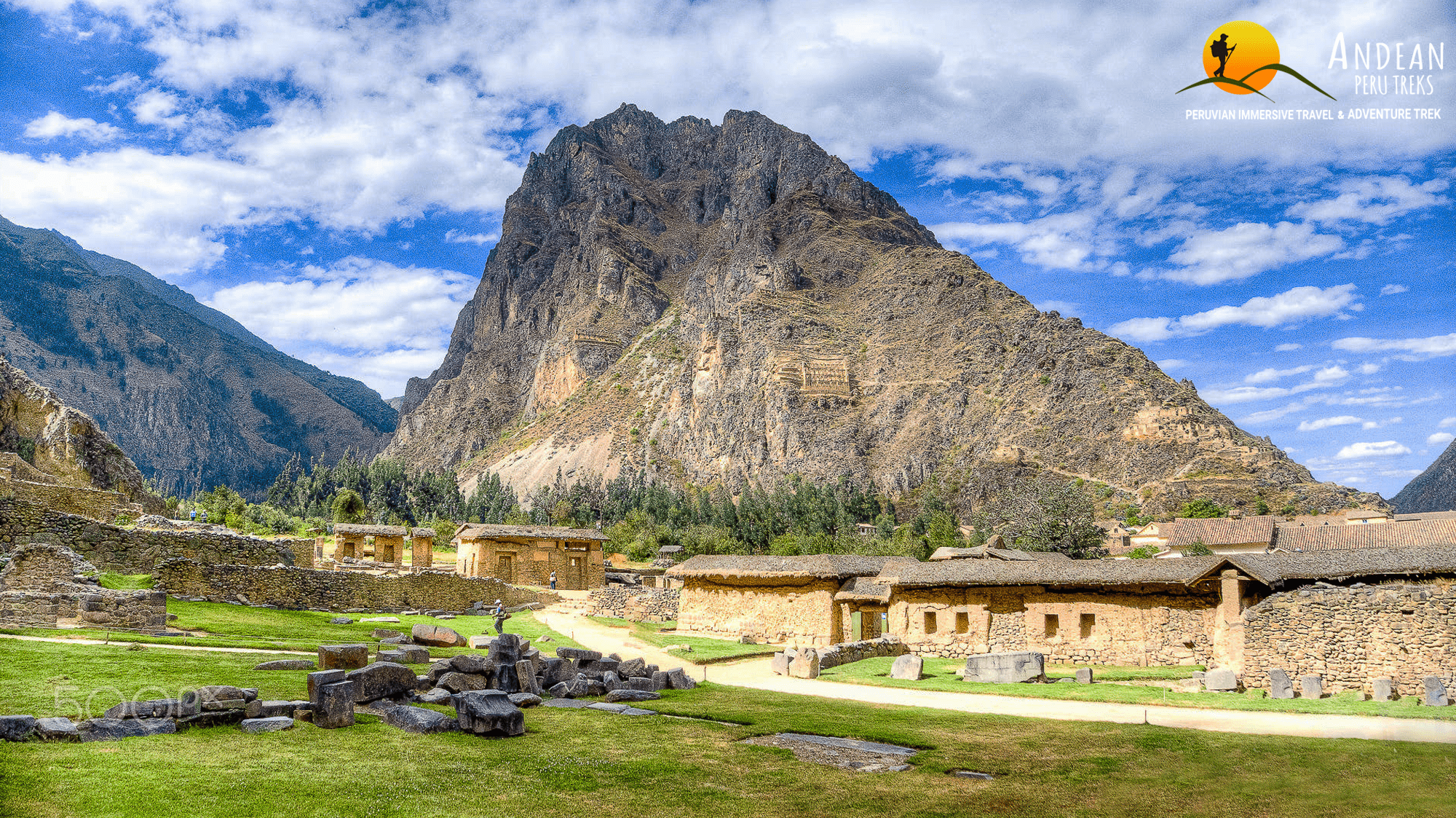 Short Inca Trail 2 Days.-.- Breakfast from 05:30 am or depends on you, prior coordination with the guide. Then board the bus to Machupicchu, it is opens at 6:00 am. We have a guided tour of Machupicchu, this enigmatic and mysterious city is explored for approximately 2-3 hours explained by its expert guide, you can visit the most impressive places like the Royal Mausoleum, the temple of the 3 windows, the main temple, the Plaza Sacred, the famous Intihuatana where the Inkas sages tied the sun at the winter solstice in June, steps, squares, fountains, etc. (You will usually then have about 5-6 hours of spare time).
After finishing our magisterial visit, we can return to Aguas Calientes town and look for a delicious lunch. Then we will have some free time to tour this picturesque village before boarding our train back to Cusco.
The train leaves Aguas Calientes in the afternoon at 18:20. (In high season train times may vary.) And arrive in Ollantaytambo train station at 20:20, and then transfer for 1.30 hrs To Cusco.
Meals: Breakfast at the Hotel
Maximum Altitude: Altitude Minimum: 2100m / 6888 feet
Minimum Altitude: Maximum Altitude: 2400m / 7872 feet
Distance Travelled: Distance Traveled: 9 km approximately
Approximate Walking Time: Approximate Walking Time around the citadel: 3-4 hours
Included in the Short Inca Trail 2 Days
Transfer in from the airport to your hotel the day of your arrival to Cusco (Courtesy of the Travel Agency).
Briefing a day before the trip in your Hotel.
Pick up from your hotel at 4:00 a.m.
Private transportation to the train station in Ollantaytambo (2 hours)
Train ticket up to km 104 (starting point of the tour.)
Tickets to the Inca Trail and to the Sanctuary of Machupicchu.
Experienced expert English guide.
Guided tours to Chachabamba, Wiñaywayna, and Choquesuysuy
Guided tour of Machu Picchu on the second day.
1 box lunch, 1 Dinner, 1 Breakfast.
1 hotel night in Aguas Calientes (with shower and private bathroom.)
Bus tickets the first and second day.
Train ticket return to Cusco or Ollantaytambo + transport to Cusco.
Transfer out from your hotel to the airport the day you will leave Cusco (Courtesy of the Travel Agency).
Not Included in the Short Inca Trail 2 Days
Entrance to the thermal baths 10 soles (optional). (Bring towels and towels.)
Lunch and Dinner the second day.
Drinks, refreshments, or water.
Tips for your guide are optional.
Entrance Ticket to Huaynapicchu Mountain $ 65.00 / ($ 40 with ISIC card).
Things not mentioned above.
What to bring to Short Inca Trail 2 Days
Original passport
ISIC International Student Card (if registered as a student).
A personal backpack for the day.
Water for drinking (2 liters)
Digital Camera with fully charged batteries and binoculars
Raincoat in rainy season – December to March.
Sun Hat, it is essential.
Sunscreen to protect against sun.
Insect repellent by mosquitoes.
Hiking shoes, sturdy shoes.
Money in soles or dollars. (The exchange rate from dollars to soles is low in Aguas Calientes).
Special Prices and Discounts
Students who present an official student card (Isic Student Card) will receive a discount of US $ 19.00.
Aguas Calientes Extra day (optional)
This package gives guests the possibility to spend an extra night in Aguas Calientes, and visit Machu Picchu for second day and then return to Cusco in the comfortable Vistadome train.
Prices – Additional standard day at Machu Picchu Pueblo is depending on the quality of the hotel you would like to stay.
Second day of entry to Machu Picchu and Huayna Picchu, valued at $ 65.
Bus up and down to the Santuaario in extra day, for $ 24.
Dinner in Machu Picchu Pueblo.
Return by train Vistadome instead of Expedition train, which give you the opportunity to set a more varied schedule and return on the most beautiful train, with large windows on the roof (plus an additional of $55.00).
Price per Person: (Minimum 2 persons; departures all year except February)
Group Service or Shared Service:
US $ 440 per person.
Private service:
| | |
| --- | --- |
| Number of People You Book With | Price per Person in US Dollars |
| 2 people | $500 USD per person |
| 3-5 people | $490 USD per person |
| 6-8 people | $480 USD per person |
| 9+ people | Please contact us for a special price! |
Discounts:
Student Discount (with valid ISIC card) – $30
Under 17 year old Discount – $30
Under 7 years old Discount – $30
*To receive the child discount you must send us a copy of the child's passport.
Optional Services:
Huayna Picchu: If you are interested in climbing Huayna Picchu, the mountain overlooking Machu Picchu, there is an additional fee of $65 USD per person for us to buy your entrance ticket. Spaces are limited, so please let us know when booking whether you would like to hike Huayna Picchu, and we will reserve it for you.
Additional Night in Aguas Calientes: After hiking for 4 days, some people prefer to spend the 4th night in Aguas Calientes instead of returning to Cusco right away. This can give you more time to enjoy the ruins of Machu Picchu, relax in the hot springs in Aguas Calientes, and in general not have to worry about the time. This option is also good for those who want to climb Huayna Picchu but want to have some time to rest after the hike, so you can return to Machu Picchu the next day to climb Huayna Picchu Mountain. Please contact us at [email protected] for more information about options and prices.
Trekking Poles: We recommend taking trekking poles on the hike especially when hiking downhill. If you would like to rent a pair for the whole hike, the price is $15 USD per person.
Vistadome Train: Our price includes a return train ticket in the Expedition train, however, if you would like to upgrade to the Vistadome train the price is an additional $55 USD per person.
Machu Picchu is an Inca city surrounded by temples, platforms and waterways, built on top of a mountain. Its construction was built with large blocks of stone joined together, without the use of amalgam. At the moment it is considered cultural patrimony of the humanity when being recognized like important political, religious and administrative center of the Inca time.
Where it is located?
Machu Picchu which in Castilian means "old mountain", is the most famous Inca citadel in the world. Located 112.5 kilometers northeast of Cusco, in the province of Urubamba, this architectural jewel is surrounded by temples, platforms and water channels.
History and architecture
Built in the 15th century at the request of the Inca Pachacútec, Machu Picchu is divided into two large sectors: the agricultural area comprising a vast network of terraces or artificial terraces and the urban area, made up of various buildings and plazas, among which the Temple of the Sun , Temple of the Three Windows, the Main Temple and the called condor sector.
Their constructions follow the classic Inca style: buildings with stone walls polished in rectangular form, united to each other without the use of amalgams, doors and windows trapezoidal.
Important data:
Declared Cultural and Natural Heritage of humanity, being considered as important religious, political and administrative center of the Inca period.
Machu Picchu was interconnected with the entire Inca Empire through the Qhapac Ñan, known route of the Inca's roads.
Its temperature ranges from 6.2 ° to 29 °, since it is located in a subtropical zone. Its rainy months are from December to April.
Its majestic architecture comprises about 140 structures throughout the citadel.
The average altitude of the citadel is 2 400 masl.
The mountains of Huayna Picchu and Machu Picchu are ideal for panoramic photographs of the entire architectural complex.
Its discovery is due to the researcher Hiram Bingham III who was looking for the last capital of the Incas Vilcabamba.
Machu Picchu was declared "Historic Sanctuary of Peru" in the year 1981.
General information
The name of Machu Picchu means "Old Mountain", named for the location of the Inca citadel.
The architectural complex was built approximately in the 15th century by the Inca Pachacutec, according to historians.
The exact location is in the district of Machu Picchu, province of Urubamba, 112.5 km northeast of the city of Cusco.
Machu Picchu was interconnected with the entire Inca empire through the Qhapaq Ñan, known route of the Inca's roads.
Its annual temperature is of 6º C minimum and maximum of 21º C.
The citadel has two sectors: the agricultural one conformed by the platforms and the urban one that fulfilled administrative functions.
The average altitude of the citadel is 2453 masl.The mountains of Wayna Picchu and Machu Picchu are ideal for panoramic photographs of the entire architectural complex.
Summary
Brand Name
Product Name
2 Days Short Inca Trail To Machu Picchu
Price
Product Availability