Inca Trail 2 Days to Machupicchu
Andean Peru Treks. Recommends this excellent alternative of the short Inca Trail for those tourists who do not have much time or who do not have the necessary physical preparation, Tour Inca Trail 2 Days to Machu Picchu.
This is the short version of the famous and magnificent Inca Trail, for those who have little time, but in no way want to miss this unique tour and enjoy the beautiful landscapes and the diversity of plants such as orchids and various birds. This tour is 11 kilometers the first day during this tour, you will be able to observe and discover one of the greatest cultures of South America, the «Inca», «Quechua» or «Andean» culture.
The capital of this culture was Q'osqo or Cusco and it extended over a large part of South America (Peru, Chile, Ecuador, Bolivia, Bolivia, Argentina, Colombia). Inca Trail is hidden in the Andes mountain range with buildings at the top of the mountains with a view of the Peruvian Amazon. With the arrival of the conquistadors, this culture was disappearing, but some monuments and relics were left intact, as we will see during this tour.
Between the Andes Mountains and the rainforest, there is a great Inca crossing the mountains and the Sacred Valley. The first archaeological site to visit is Chachabamba (2,200 m / 7,217 ft) on the Urubamba River side and the summit is Wiñaywayna (2,650 m / 8,694 ft) then we will go to Intipunku (2,720 m / 8,923 ft) where we will have a panoramic view from Machu Picchu (2,490 m / 8,169 ft) we can also find a variety of flora and fauna as well as a variety of birds.
The hike takes about 6-7 hours to reach the Sun Gate, known as Inti Punku, from where you can see the first panoramic views of Machu Picchu.
Before the hike, the guide will come to your hotel and give you precise information about the hike and recommendations of what to bring, he will also hand out tickets (Inca Trail entrance, train ticket, etc.) by the hour. for which you can consult.
Summary of the 2 day Inca Trail
This option is for those who do not have the time or desire to walk along the Inca Trail. With beautiful scenery, a great variety of flora and fauna on display and a visit to the most beautiful site of the Inca Trail (Wiñay Wayna), you will be able to enjoy the best parts of the Inca Trail condensed into a day hike. Covering a distance of only 10 km / 6.3 miles the 2 day Inca Trail is not too difficult, making it perfect for families with children and those on a tight schedule.
No way to explain the surprise of that «woow woow» when after four hours of steep hike up, crossing the trail to the second most important Inca site «Wina Wayna», (which by the way) is beautiful and well worth climbing a steep flight of stairs and then your breath is truly taken away at the Sun Gate.
The next day, after breakfast, at 05:30 we board a bus to Machupicchu for our full guided tour and day of exploration. Our expert guide will help you better understand Machupicchu. Then you will have free time to explore for yourself, take pictures, contemplate this magical place or simply meditate on such a wonder. If you are interested in climbing the Huaynapicchu mountain you must book in advance.
After our extensive visit to this magical place we will descend to Aguas Calientes (25 minutes), take lunch (optional), and then our train back from Aguas Calientes to Ollantaytambo train station and transfer to Cusco for 1.30 hrs.
Short Inca Trail Highlights
Impressive views of the Inca Complex of Chachabamba and Wiñay Huayna
Beautiful snow mountain ranges of Urubamba – Cordillera
Sun Gate «Inti Punku» – the main entrance for ancient pilgrims to Machu Picchu («Inti Punku»)
Lush tropical forest in the valleys of the 1 day hike to Machu Picchu
Local flora and fauna

históric Inmersión y cultural en la cultura inca y Machu Picchu.

Beautiful streams and waterfalls
Inca Lost City in Machu Picchu – New 7 Wonder of the world
Trip style: Hiking, Adventures, History & Cultural Immersion
Trip Length: 2 Days/ 1 Night
2-Days Inca Trail departures: From March to January (February is closed for maintenance)
Group Recommended: 2 persons min , max 10 persons
Physical Dificulty: Moderate to Challenging
Total distance hiked: 14km /8 miles
Starting altitude: 2.250mt /7,240 ft
Maximun altitude: 2700mt /8540 ft
Day 1: Cusco – Ollantaytambo- Km 104 Chachabamba- Wiñay-Wayna- Machupicchu-Aguas Calientes.
Short Inca Trail 2 Days.- Pick up from your hotels at 4:00 am to transfer you for a 2 hour trip, with private transportation to the train station in Ollantaytambo.
We will board the Expedition Train, we will travel by train for an hour and 45 minutes to Km 104 (Start of our trek.) (It is worth the effort to get up early and go with this train, which allows us to enter and start our trek early, if we wait for the In the Km 104 after presenting passports in the control, we began to trek gently to about a few kilometers of the city of Ollantaytambo, Meters from the Vilcanota River.
On the way we will see the ruins of Chachabamba, an in-situ stone altar that served to worship the sun and the mountains, still venerated by local people. After visiting Chachabamba, we will continue the trail towards the south and begin a gradual climb to the mountain, before entering a forest of clouds and with a lot of vegetation, soon the trail leaves to the forest and goes towards the west, while we continue uphill In an open meadow. After walking for 3 hours, the path descends into an amazing forest. Here we will find a beautiful waterfall, then we will reach the bottom of the Wiñaywayna ruins.
We will appreciate the beauty of this site, complemented by the information of our expert guide. After our box lunch in Wiñaywayna, we will continue in the evening in the cloud forest, full of bromeliads, orchids, and fern trees.
As we walk this last part of the way, we will go through many impressive features like stone stairs and tambos ("resting places"). You will climb 60 stairs before arriving at Inti Punku ("the sun gate"). From this point, you can contemplate and observe this wonderful place. Then we will descend for 45 minutes until we reach the part of the famous viewpoint, from here you can observe the sunset. We will descend to the entrance of Machupicchu where we will board the bus to Aguas Calientes. Dinner included, rest, plans and arrangements for tomorrow. The thermal baths are a good option (bring your swimsuit and 10 soles).
Meals: Box lunch and  Dinner
Accommodation: In Muyurina Hotel
Maximum Altitude: Maximum Altitude: 2680 meters / 8792 feet
Minimum Altitude: Altitude Minimum: 2100 meters / 6888 feet
Distance Travelled: Distance traveled: 10 kilometers approximately
Approximate Walking Time: Approximate Walking Time: 6-7 hours
Day 2: Aguas Calientes-Machupichu- Ollantaytambo- Cusco
Breakfast from 05:30 am or depends on you, prior coordination with the guide. Then board the bus to Machupicchu, it is opens at 6:00 am. We have a guided tour of Machupicchu, this enigmatic and mysterious city is explored for approximately 2-3 hours explained by its expert guide, you can visit the most impressive places like the Royal Mausoleum, the temple of the 3 windows, the main temple, the Plaza Sacred, the famous Intihuatana where the Inkas sages tied the sun at the winter solstice in June, steps, squares, fountains, etc. (You will usually then have about 5-6 hours of spare time).
After finishing our magisterial visit, we can return to Aguas Calientes town and look for a delicious lunch. Then we will have some free time to tour this picturesque village before boarding our train back to Cusco.
The train leaves Aguas Calientes in the afternoon at 18:20. (In high season train times may vary.) And arrive in Ollantaytambo train station at 20:20, and then transfer for 1.30 hrs To Cusco.
Meals: Breakfast at the Hotel
Maximum Altitude: Altitude Minimum: 2100m / 6888 feet
Minimum Altitude: Maximum Altitude: 2400m / 7872 feet
Distance Travelled: Distance Traveled: 9 km approximately
Approximate Walking Time: Approximate Walking Time around the citadel: 3-4 hours
Included in the Short Inca Trail.
Transfer in from the airport to your hotel the day of your arrival to Cusco (Courtesy of the Travel Agency).
Briefing a day before the trip in your Hotel.
Pick up from your hotel at 4:00 a.m.
Private transportation to the train station in Ollantaytambo (2 hours)
Train ticket up to km 104 (starting point of the tour.)
Tickets to the Inca Trail and to the Sanctuary of Machupicchu.
Experienced expert English guide.
Guided tours to Chachabamba, Wiñaywayna, and Choquesuysuy
Guided tour of Machu Picchu on the second day.
1 box lunch, 1 Dinner, 1 Breakfast.
1 hotel night in Aguas Calientes (with shower and private bathroom.)
Bus tickets the first and second day.
Train ticket return to Cusco or Ollantaytambo + transport to Cusco.
Transfer out from your hotel to the airport the day you will leave Cusco (Courtesy of the Travel Agency).
Not Included in the Short Inca Trail 2 Days
Entrance to the thermal baths 10 soles (optional). (Bring towels and towels.)
Lunch and Dinner the second day.
Drinks, refreshments, or water.
Tips for your guide are optional.
Entrance Ticket to Huaynapicchu Mountain $ 65.00 / ($ 40 with ISIC card).
Things not mentioned above.
Packing List Short Inca Trail
Original passport
ISIC International Student Card (if registered as a student).
A personal backpack for the day.
Water for drinking (2 liters)
Digital Camera with fully charged batteries and binoculars
Raincoat in rainy season – December to March.
Sun Hat, it is essential.
Sunscreen to protect against sun.
Insect repellent by mosquitoes.
Hiking shoes, sturdy shoes.
Money in soles or dollars. (The exchange rate from dollars to soles is low in Aguas Calientes).
Prices: Short Inca Trail
Students who present an official student card (Isic Student Card) will receive a discount of US $ 19.00.
Machupicchu  Pueblo Extra day (optional)
This tour gives guests the possibility to spend an extra night in Aguas Calientes, and visit Machu Picchu for second day and then return to Cusco in the comfortable Vistadome train.
Prices  Inca Trail 2 Days– Additional standard day at Machu Picchu Pueblo is depending on the quality of the hotel you would like to stay.
Second day of entry to Machu Picchu and Huayna Picchu, valued at $ 65.
Bus up and down to the Santuaario in extra day, for $ 24.
Dinner in Machu Picchu Pueblo.
Return by Vistadome  train instead of Expedition train, which give you the opportunity to set a more varied schedule and return on the most beautiful train, with large windows on the roof (plus an additional of $55.00).
Prices in Private Service
| Number of people | Price per person |
| --- | --- |
Price per Person: (Minimum 2 persons; departures all year except February)
Private service:
All our services are in private service. Prices vary according to the number of people in your group (families, friends, associates and others), based on a double or double room in a 2-star hotel and on the Expedition train (basic service).
For a single room or if you wish to spend the night in another hotel category and also to travel in another train category, you must add a supplement.
| | |
| --- | --- |
| Number of People You Book With | Price per Person in US Dollars |
| 2 people | $500 USD per person |
| 3-5 people | $490 USD per person |
| 6-8 people | $480 USD per person |
| 9+ people | Please contact us for a special price! |
Group Service or Shared Service:
US $ 440 per person.
Discounts:
Student Discount (with valid ISIC card) – $30
Under 17 year old Discount – $30
Under 7 years old Discount – $30
*To receive the child discount you must send us a copy of the child's passport.
Optional Services:
Huayna Picchu: If you are interested in climbing Huayna Picchu, the mountain overlooking Machu Picchu, there is an additional fee of $65 USD per person for us to buy your entrance ticket. Spaces are limited, so please let us know when booking whether you would like to hike Huayna Picchu, and we will reserve it for you.
Additional Night in Aguas Calientes: After hiking for 4 days, some people prefer to spend the 4th night in Aguas Calientes instead of returning to Cusco right away. This can give you more time to enjoy the ruins of Machu Picchu, relax in the hot springs in Aguas Calientes, and in general not have to worry about the time. This option is also good for those who want to climb Huayna Picchu but want to have some time to rest after the hike, so you can return to Machu Picchu the next day to climb Huayna Picchu Mountain. Please contact us at info@andeanperutreks.com for more information about options and prices.
Trekking Poles: We recommend taking trekking poles on the hike especially when hiking downhill. If you would like to rent a pair for the whole hike, the price is $15 USD per person.
Vistadome Train: Our price includes a return train ticket in the Expedition train, however, if you would like to upgrade to the Vistadome train the price is an additional $55 USD per person.
Did you know about the Inca Trail?
There are limited accesses to the 4-Day Inca Trail.
In Perú The Inca Trail permits only 500 people are allowed for each day – approximately 200 trekkers and 300 people among guides, cooks, and assistants. Inca Trail Permits are sold on a first-come, first-served basis and are in great demand: they can be sold up to 6 months in advance.
If you buy your Inca Trail Ticket, it is reserved and confirmed. All spaces are personal and non-transferable, and there is no waiting list, so if someone cancels, your place cannot be taken by someone new. Also note that the Inca Trail to Machu Picchu is closed in February for maintenance.
Brief Pre-Information of the Inca Trail
Andean Peru Treks gives you an briefing that is usually 1 day or 2 days before the actual departure date to the Short Inca Trail. During this briefing you will meet with your expert local guide and be able to ask any final questions you may have before your 2 day hike to Machu Picchu.
If you are wondering how to physically prepare yourself to do this Short Inca Trail. Maybe you think you won't be able to do it. Trust us, we do this every day. We invite you to read the following and know what you need to do this Short Inca Trail successfully
Make a Mental Preparation
The success of your trip depends on it. Although it will take you several days, and even weeks of proper preparation. And although you feel that you do not feel sufficiently prepared or fit. The fact is that when it comes to travel, there is no such thing as being 100% prepared. You can only learn enough by doing this 2-Days Inca Trail, being aware of yourself is the best tool, and although the road seems difficult, you should not give up, ask for help from one of our Expert Guides and they will help you to make everything go better.
In Peru we have a common saying that says: «Caminante no hay camino, se hace camino al andar». You can't have control of everything like at home. The fact is that traveling offers us the opportunity to put aside the need to want to control everything, and allows us to enjoy the beauty of traveling regardless of the challenges we may pose.
Your endurance and open-mindedness will be put to the test no matter how experienced you are. The world is full of different environments and people that will make the trip more exciting. Finally, looking back on your journey, you will be proud of the memories and the impact it had on you to make this Short Inca Trail
Information About Machupicchu
Machu Picchu is an Inca city surrounded by temples, platforms and waterways, built on top of a mountain. Its construction was built with large blocks of stone joined together, without the use of amalgam. At the moment it is considered cultural patrimony of the humanity when being recognized like important political, religious and administrative center of the Inca time.
Where it is located?
Machu Picchu which in Castilian means "old mountain", is the most famous Inca citadel in the world. Located 112.5 kilometers northeast of Cusco, in the province of Urubamba, this architectural jewel is surrounded by temples, platforms and water channels.
History and architecture
Built in the 15th century at the request of the Inca Pachacútec, Machu Picchu is divided into two large sectors: the agricultural area comprising a vast network of terraces or artificial terraces and the urban area, made up of various buildings and plazas, among which the Temple of the Sun , Temple of the Three Windows, the Main Temple and the called condor sector.
Their constructions follow the classic Inca style: buildings with stone walls polished in rectangular form, united to each other without the use of amalgams, doors and windows trapezoidal.
Important data:
Declared Cultural and Natural Heritage of humanity, being considered as important religious, political and administrative center of the Inca period.
Machu Picchu was interconnected with the entire Inca Empire through the Qhapac Ñan, known route of the Inca's roads.
Its temperature ranges from 6.2 ° to 29 °, since it is located in a subtropical zone. Its rainy months are from December to April.
Its majestic architecture comprises about 140 structures throughout the citadel.
The average altitude of the citadel is 2 400 masl.
The mountains of Huayna Picchu and Machu Picchu are ideal for panoramic photographs of the entire architectural complex.
Its discovery is due to the researcher Hiram Bingham III who was looking for the last capital of the Incas Vilcabamba.
Machu Picchu was declared "Historic Sanctuary of Peru" in the year 1981.
General information
The name of Machu Picchu means "Old Mountain", named for the location of the Inca citadel.
The architectural complex was built approximately in the 15th century by the Inca Pachacutec, according to historians.
The exact location is in the district of Machu Picchu, province of Urubamba, 112.5 km northeast of the city of Cusco.
Machu Picchu was interconnected with the entire Inca empire through the Qhapaq Ñan, known route of the Inca's roads.
Its annual temperature is of 6º C minimum and maximum of 21º C.
The citadel has two sectors: the agricultural one conformed by the platforms and the urban one that fulfilled administrative functions.
The average altitude of the citadel is 2453 masl.The mountains of Wayna Picchu and Machu Picchu are ideal for panoramic photographs of the entire architectural complex.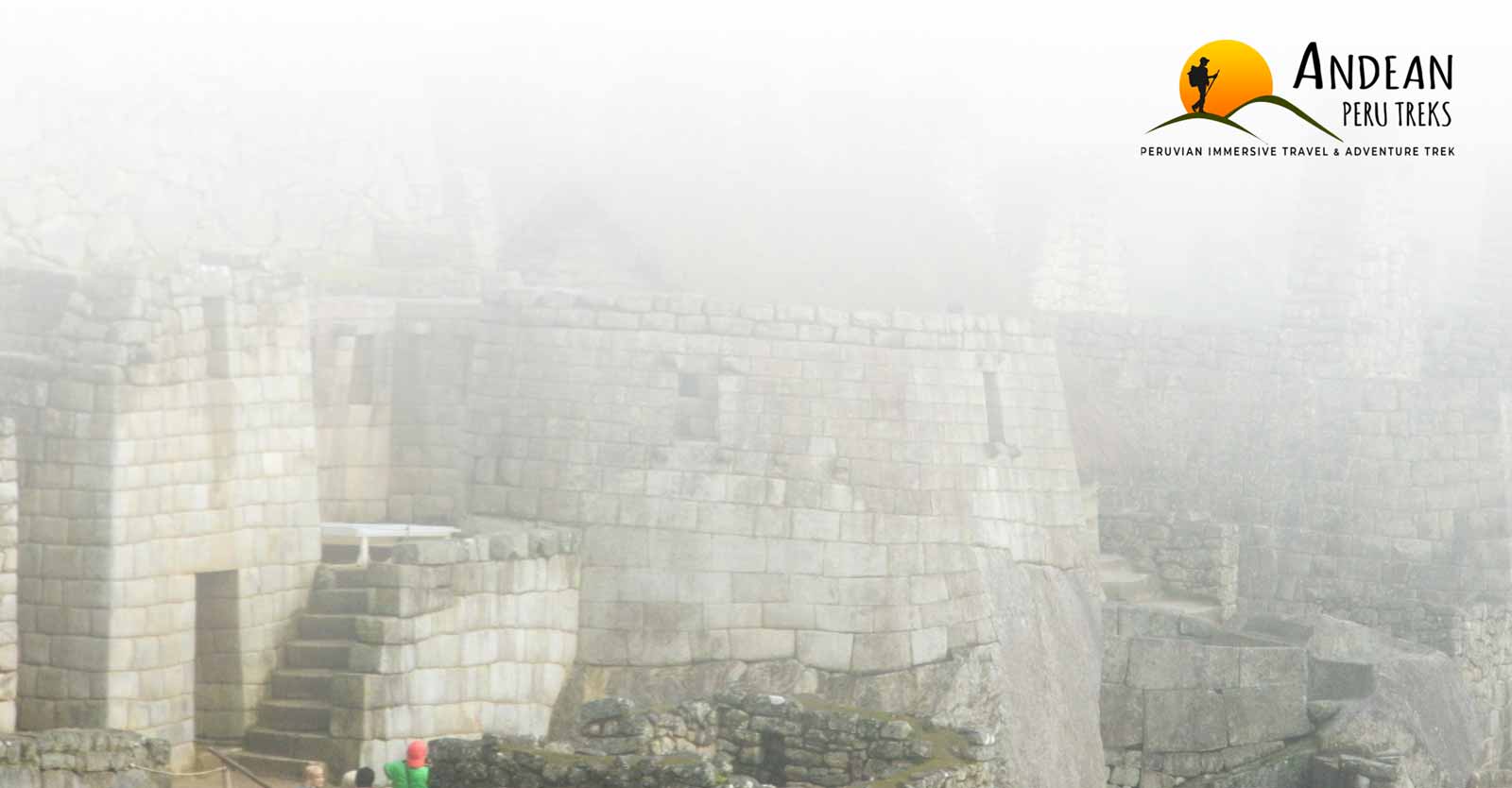 So would I recommend hiking the 2-day Inca Trail?
Yes, the 2 day Inca Trail only requires a full day of walking, it is a full day of physical work. Some sections of the trail are very steep, you will be climbing high stone steps, and there are parts where the ground is quite uneven. You'll have to earn your way into Machu Picchu, but I think it's worth it.
Can I buy the train ticket in advance?
We can also reserve an afternoon train that leaves at 2:55 p.m. or 4:22 p.m. at an extra cost of US $35 per person for the train that we will reserve DEPENDING ON AVAILABILITY.
Please note that the extra $35 you will pay will also cover your private transportation from the Ollantaytambo train station to your hotel in Cusco.
There is also an option to upgrade your train to the Vistadome train which is the extra US $75 per person. Please let us know your preference when booking the tour. Unfortunately, none of the trains go directly to Cusco – they run to Ollantaytambo or Poroy. In either case, we will transfer you back to Cusco by bus.
Can I change my return train ticket on my own?
At the time of your tour, it may be possible to make changes to your return train ticket if you do not wish to take the 18:20 p.m. train. You will need to take your train ticket personally to the train station in Aguas Calientes and ask them to change your return ticket to an earlier one. You will probably be asked to pay an extra administrative fee, which will depend on the service of the train and the time of departure. Please note that once you change your return train you will be responsible for covering your own transportation back to Cusco.
How long is the return trip to Cusco?
You will be traveling for approximately 3 hours before arriving back to Cusco. First, you will travel for 1.5 hours by train to the Ollantaytambo station. Then you will be picked up by your driver outside the train station. The driver will carry a sign with your name on it so that there is no confusion. If you don't see the driver initially, wait for him outside the train station. Once the driver has picked you up, you will travel for another 1.5 hours in a private van/car to your hotel/hostel in Cusco. The time of arrival in Cusco will depend on train availability. You will receive your return train tickets once your guide has completed your Machu Picchu walking tour.
Important notice about student discounts:
The ISIC card is no longer valid for the purchase of Machu Picchu or Inca Trail tickets with a student discount.
Students can still obtain this discount with their student ID card issued by the university where they study, which is the only valid document for this purpose at this time.
Additional options
Huayna Picchu
Huayna Picchu is the mountain next to Machu Picchu and can be seen in most pictures of the ruins. It is a 45 minute walk to the top. While this hike is done on your own, your guide will direct you to the place where the hike begins. This requires a separate entrance ticket which we can secure for you in advance, for an additional cost of $80 per person.
Machu Picchu Mountain
The mountain of Machu Picchu is the other mountain that rises above the ruins of Machu Picchu. It offers even more impressive views than Huayna Picchu, but it takes an hour and a half of steep climbing to reach the top. This also requires a separate entrance ticket which we can secure for you in advance, for an additional cost of $80 per person.
Vistadome Train
The Vistadome train is an upgraded train, offering slightly larger seats, windows and even some entertainment! Normally, the Vistadome train is reserved at 3:20 p.m. and travels to Poroy, a train station closer to Cusco (we will still include your transportation back to your hotel.) This train costs $75 per person.
Rental Items
Walking sticks (sticks) $10
Small Day Packages $10
Please note: Pick up and drop of to your accommodation is included in all our tours.
Storage during your 2-Days Inca Trail: Most of our trekkers leave their belongings that they do not want to take on the trek at the hostel where they were previously staying. These hostels/hotels usually have a secure, locked room where you can safely store your belongings. If you do not trust your hostel, we will be happy to store your belongings for you.
Thank you for booking this exciting adventure of the Short Inca Trail; we congratulate you, we are sure that this will be the adventure of your life, in just 2 days you will be able to enjoy this Inca Road build by our Inca ancestors; remember that to confirm your reservation we will ask you for an advance of the total cost of the tour to make the purchase of your tickets to the places that are necessary; also remember that there is a limited permits to enter the Inca Trail, as it is necessary to book up to 6 months in advance.
Machupicchu Short Inca Trail Photo Gallery
Recommendation to do the Short Inca Trail:
You must acclimatize before arriving to Cusco, one or two days before starting the 2 Day Inca Trail. For a good acclimatization it is necessary to rest as much as possible, to eat little, to drink abundant liquid; specially the coca  tea that possesses known healing and digestive properties. An adequate acclimatization avoids that it affects the «soroche» or altitude Sicknes, that could cause numerous annoyances to the health. And it won't allow you to enjoy this exciting Inca Trail in 2 Days.