Duration: 8 Days


Tour Type: Walking

Altitud Max.: 6,271 msnm


Group sizes: +2


Fisica Level: Intermediate
DAY 1.- CITY TOUR (CATEDRAL, QORICANCHA, SACSAYHUAMAN, QENQO, PUCA PUCARA, TAMBOMACHAY).
Beginning the tour in the historical center of the city visit to the Cathedral of Cusco, built between 1556 and 1654, its altarpieces are splendid, its pulpit is carved wood, from the end of the s. XVII, and the masonry of the choir is superb. Also highlights his collection of paintings from the Cuzco school. It has one of the richest jewellery treasures of colonial art. Later you will visit to the Temple of the Sun or Qoricancha, this set was dedicated to the religious worldview of the Andean world. Then you will go to Sacsayhuamán, an imposing example of Inca architecture 2 km north of the city center, famous throughout the world for the enormous carved rocks, united with astonishing precision. Then visit Qenko which is an outcrop of limestone rock on which have been carved intricate mythical representations, then visit Puca Pucará, served as a checkpoint of the Inca Trail. Finally you will visit Tambomachay to 7 km of the Cusco, popularly known as the baths of the Inca, important center of cult and water worship.
Day 2: Cusco – Mollepata (Challacancha) – Soraypampa

At 5:30 am you will be picked up from your hotel in private transport to take you to the beginning of your alternative Inca Trail trek. You will pass the village of Mollepata (3000m) before heading towards Challacasa (3600m) where we will meet with the muleteers and the horses in order to start the trek. From here our trek begins winding through an amazing valley while surrounded by the snow-capped peaks of Humantay (5450masl) and Salkantay (6271masl). In the afternoon we will reach our first campsite at the scenic site of Soraypampa (3912masl).
Here you will enjoy a buffet dinner prepared by high-class chefs in a spacious dining tent. With dinner, you will receive hot wine to help you unwind from your strenuous day. Enjoy your first night sleeping under the tranquility of the Andes' sky in your cozy homey tents.
Day 3: Soraypampa – Salkantay pass – Challway

Early, after a delicious breakfast with Andean products, you will begin your second day of trekking towards Machu Picchu. This is a challenging day as you will hike towards the Humantay Lagoon and then to the Salkantay pass (4600masl). All day you will have spectacular views of the towering snow-covered peak of Salkantay (6271masl). As we continue on the trail you will notice the abundant and exuberant diversity of endemic vegetation of the area. After crossing the Salkantay Pass, we will enjoy a delicious lunch and then continue with the descent towards our second campsite called Challway (3000m), where you will be enjoying the warm climate of the tropical forest.
This night you will enjoy a gourmet dinner, wine, surrounded by colorful flowers, It is important to mention the presence of mosquitoes, so it is recommended to use repellent! Likewise, you can enjoy a hot shower offered by local people.
Day 4: Challway – Wiñaypoco – La Playa
Early following, nourishing breakfast, you will begin the most beautiful day of the trek where you will see the region's magnificent flora and banana plantations. Our trek descends into a thick cloud forest that will surround you with orchids, bromelains, and other amazing local flora. After, we will come upon a secluded valley filled with expansive coffee, cacao and fruit plantations. Our path takes us through the farming villages of Wiñaypoco (2650m) and La Playa (2100m) where you will encounter local families and get a chance to speak to them and learn about their lifestyle. Tonight we will camp in the warm village of La Playa where you will enjoy your last dinner of our chef.
Day 5: La Playa – Lactapata – Hydroelectric – Aguas Calientes

In the morning after breakfast we will follow an uphill trail towards the Llactapata archeological place (2700masl). From this site you will have a great view of the distant Machu Picchu Mountain and will be surrounded by lush greenery and variety of flora. After enjoying the archeological site and the breathtaking views, we will start descending towards the hydroelectric of Machu picchu(1950masl) where we will have the last lunch with our magnificent chef, say good bye and continue the trek to Aguas Calientes town (At the Hydroelectric train station you have the option of taking the train the rest of the way for an additional cost) 2000masl. Upon arrival at Aguas Calientes in the afternoon, your guide will drop you off at your hotel, where you will spend the last night of your tour.
Hotel Night in Aguas Calientes
Day 6: Aguas Calientes – Machu Picchu – Cusco
Today very early you will leave your hotel with your guide in order to aboard the bus that will transport you up to Machu Picchu (2,400masl) citadel. Upon arriving at the archeological site you will get an approximately 2 hour private tour of this amazing Lost City of the Incas. Your guide will explain you all about the history of Machu picchu and culture of the ancient Incas.
After the tour you will take the bus back down to Aguas Calientes to catch your train in order to return to Cusco.  Upon arrival back in Cusco you will be picked up from the train station (Poroy 30 minutes from the city) and transferred back to your hotel for the night.
Day 7: Rainbow Mountain Tour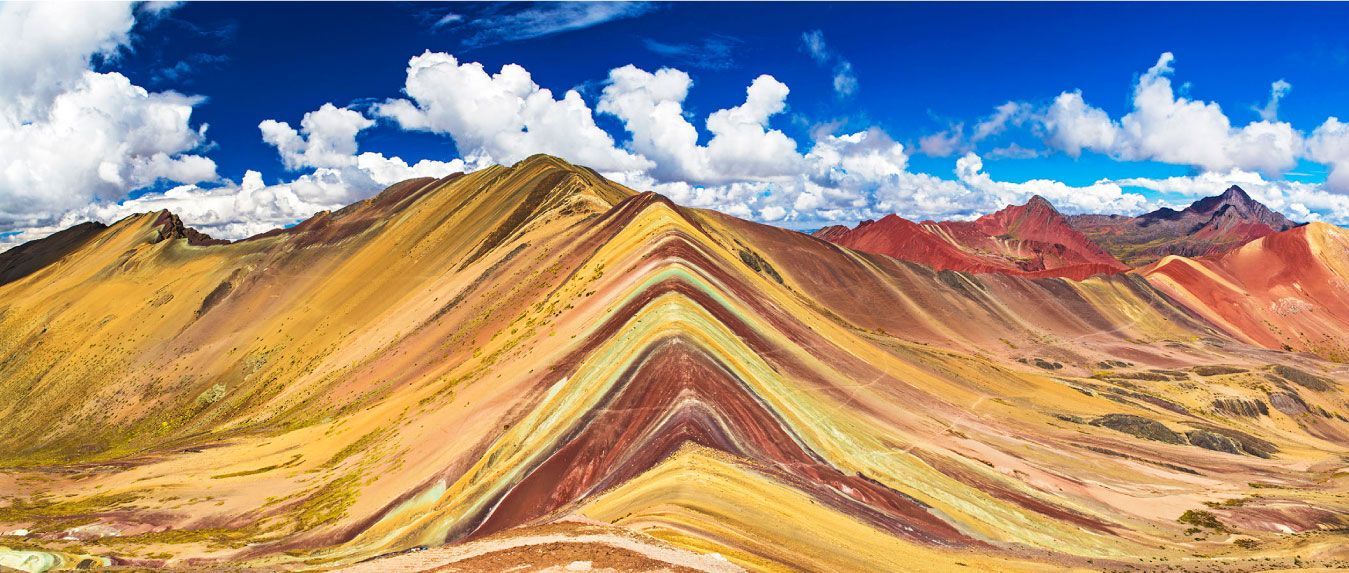 Surprise yourself with an unparalleled destination: the trek to the mountain of seven colors or Rainbow Mountain in one day. The mountain Vinicunca offers a dream landscape to have the seven colors of the rainbow stacked one over the other. Like a multicolored mantle or the reflection of the rainbow in the earth, Vinicunca rises to be admired throughout the year. This destination is located at almost 5 000 meters of height (16 400 feet) and three hours of walk. The radiant sun will accompany you along the route as well as families of auquénidos like llamas or alpacas, sheep, horses and the imposing landscape of mountains that will be the protagonists of their photographs.
Dare to take this adventure and be able to appreciate this gift of nature with your family or friends. This tour is complementary to Machu Picchu. It is available 365 days a year. You can start this adventure both in group and in private. Reserve now!
Hotel Night in Cusco.
Day 8:
At the agreed time pick up to take you to the airport (Courtesy of the company).
Included in the Trip:
Transfer in from the airport to your hotel the day of your arrival to Cusco (Courtesy of the Travel Agency).
Entrance tickets to the city tour and the rainbow mountain.
Briefing a day before the trek.
Pick up at your hotel in Cusco.
Experienced tour guide fluent in English, Spanish and Quechua. Our guides are equipped and trained to practice First-Aid, administer oxygen if needed, and conduct radio communication.
Camping equipment (tents for 2 people, sleeping mat, cooking equipment, cooking tent).
Cook muleteer, horses and mules (they carry camping equipment and 8 kg of personal equipment per person).
4 breakfasts, 4 lunches, 4 dinners (meals including hot drinks, vegetarian options available upon request).
Transport Cusco – Mollepata
Hostel in Aguas Calientes.
Entrance ticket to Machu Picchu.
Bus tickets Aguas Calientes – Machu Picchu – Aguas Calientes
Guided tour in Machu Picchu (2 hours approximately).
Train return (generally 18:20 pm) to Ollantaytambo and transport on to Cusco (in high season the train times may be slightly different due to availability), in Expedition service.
Tourist Transportation.
3 nights in the Aranjuez Hotel – Cusco (3 basic stars).
1 night in the Muyurina Hotel – Aguas Calientes Machupicchu
Transfer out from your hotel to the airport the day you will leave Cusco (Courtesy of the Travel Agency).
Not Included in the Trip
Sleeping bag or trekking poles (can be rented from us).
Water and snacks.
First breakfast, last lunch and dinner.
Tips for cook, mulateer and your guide (optional).
Personal expenses.
Entrance to the thermal baths in Aguas Calientes town (S / 10 soles).
Entrance to Waynapicchu or Machupicchu Mountain ($ 20 USD optional).
Meals and things, not mentioned above
Optional services:
Vista dome Train: Our price includes a return train ticket in the Expedition train, however, if you would like to upgrade to the Vista dome train the price is an additional $30 USD per person.
Huayna Picchu: If you are interested in climbing Huayna Picchu, the mountain overlooking Machu Picchu, there is an additional fee of $20 USD per person for us to buy your entrance ticket. Spaces are limited, so please let us know when booking whether you would like to hike Huayna Picchu, and we will reserve it for you.
Students: $ 20.00 (Students require a valid International Student Identity Card – ISIC).
Teenagers: $ 20.00 (up to 17 years of age, a copy of passport is required for all reservations).
Children: $ 20.00(up to 7 years old, passport copy required for all reservations).
Note:
In private service our passengers have the option to change the starting hours, previous coordination with the agent or the guide.
In shared service our passengers have to comply the established hours.
N° of People
Shared Service $
Private Service $
2 People
728.00
1089.00
3 – 4 People
700.00
1022.00
5 + People
Please contact us for special price!
Our private service includes all the things mentioned above and also de following things:
Private tourist transport (just for the number of people who book the tour).
Highest category hotel "Garcilazo I", located at one block from the main square of Cusco; and Inti Punku Machupicchu at Aguas Calientes the sixth day.
Price of the Tour included Hostel from
Summary
Brand Name
Product Name
Cusco + Salkantay - 8 Days / 7 nigths