Choquequirao Trek to Machupicchu.- is one of the most beautiful and spectacular walks in all of Cusco. The walk through Choquequirao is little visited "lost city of the Incas" its name means "Cradle of Gold". It is considered the Inca archaeological site, the sister of Machu Picchu, less known but 3 times bigger than Machu Picchu.
The Choquequirao Trek is a demanding adventure, which stars a road trip from Cusco to the Cachora (Apurímac) from a zigzag 31 kilometer trail to reach the historic building. The adventure of Choquequirao, from Cachora is about 62 kilometers round trip; Which lasts four days for endless walking in which we can also ride a horse.
Frequently Asked Questions Choquequirao Trek
Tour Name.- 4-Days Choquequirao Trek
Altitude: 1500 – 3030 masl
Season: Every day, all year round
Duration: 4 Days – 3 Nights or 5 Days – 4 Nights
Difficulty Level: Medium
In this hike we can appreciate Choquequirao Inca Site Enjoy the spectacular views of beautiful and majestic snow mountains, as well as great valleys and incredible canyons. We can also appreciate native animals such as Andean Condors, birds, native flora and fauna like orchids and much more.
This hike is challenging even for those who have lots of experience! This wonderful experience is unique that you cannot miss In "Andean Peru Treks" We are specialists in this incredible route and we offer more frequent departures with experienced guides and professionals.
Day 1: Cusco – Cachora – Capuliyoc – Chiquisca
We will start our tour at 5 am where we will pick you up at your hotel, and take you in our private vehicle to the Capuliyoc area (2,850 m / 9,407 ft), for about 4 hours. Along the way we will appreciate spectacular views of traditional villages in the area as well as snow-covered valleys and mountains.
Once we reach the area of ​​Cachora we meet our riders and pack all our equipment on the horses. After enjoying a breakfast we will start walking to Capuliyoc until lunchtime. There we will enjoy excellent views of the Apurimac Canyon, snow-capped mountains such as Padreyoc (5.571m) and the Choquequirao area. After a lunch prepared by our Chef we will descend for some hours of our first camp in Chiquisca (1.900m), where we will spend the night.
Meals included in the walk: Breakfast – Lunch – Tea time – Dinner.
Included Accommodation: Camping Facilities
Distance traveled: 16km / 10 miles
Difficulty: Easy / Moderate.
Day 2: Chiquisca – Maranpata – Choquequirao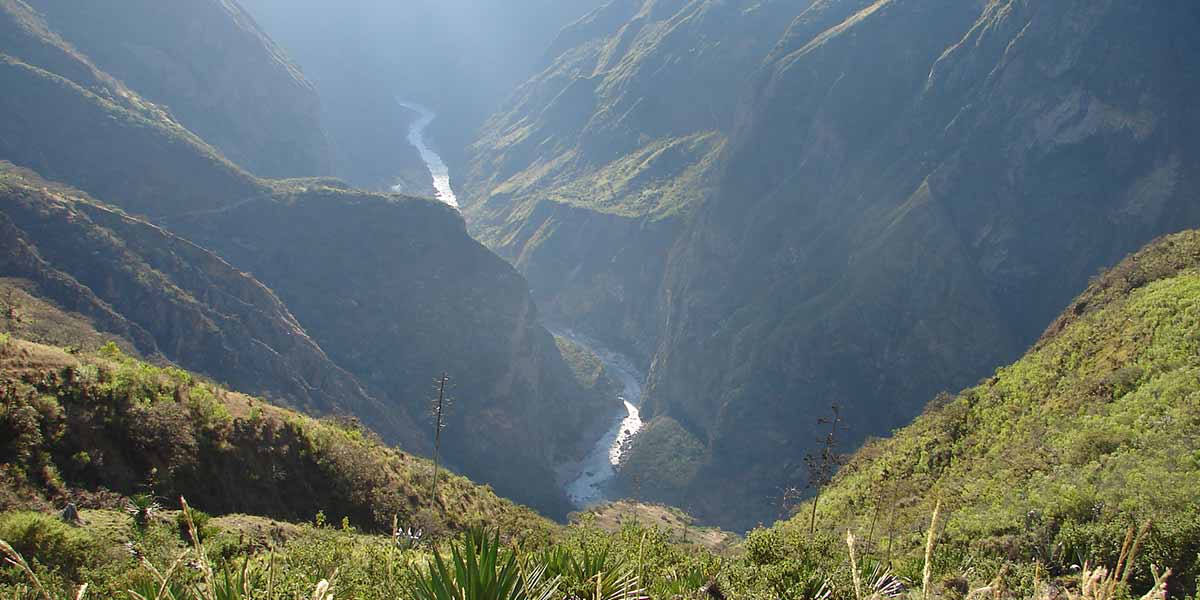 After a delicious breakfast we will descend to the magnificent Apurimac River (at an altitude of 1,550 meters) and then walk uphill to the rural village of Maranpata (2,850 m) where we have lunch while enjoying the spectacular views of the archaeological site of Choquequirao (3.150 m / 10,397 feet).
Then we will tour and enjoy the presence of flora and fauna until the magnificent archaeological site of Choquequirao where we expect a private guided tour in the afternoon.
During the tour we will explore all the important sections of the area, palaces, temples, water fountains rituals agricultural Inca terraces, we will also accompany traditional animals on the tour like the Flame and much more. Finally we will return to our second camp located only 20 minutes from the ruins of Choquequirao, where we will have our tea and a delicious dinner in the afternoon.
Meals included in the walk: Breakfast – Lunch – Tea time – Dinner.
Included Accommodation: Camping Facilities
Distance traveled: 14 km / 9 miles
Difficulty: Moderate / Difficult
Day 3: Choquequirao – Chiquisca
After a nutritious breakfast early, we will continue exploring some of the impressive sections of the ruins of Choquequirao and then we will head towards the rural community of Maranpata for lunch.
We will continue our journey descending to the magnificent Apurimac river (1,550m) for about 3 hours; Finally we will ascend a moderate hill for 1 hour until the camp of our third night in Chiquisca (1.990m)
Meals included: Breakfast – Lunch – Tea time – Dinner.
Included Accommodation: Camping Facilities
Distance: 14 km / 9 miles
Difficulty: Moderate / Difficult
Day 4: Chiquisca – Capuliyoc – Cusco
After a nutritious breakfast, we will continue climbing a moderate hill towards the passage called "Capuliyoc". Once there we will appreciate the majestic views of the surrounding mountains and the Apurimac Canyon. Then we will continue walking for 2 more hours towards Cachora (2,850m) for lunch. Then we will take our private transport to the archaeological site of Saywite where we will have much time to explore. Finally our private transport will take us back to Cusco where we will drop you off at your hotel arriving at approximately 8 pm.
Meals included: Breakfast
Distance traveled: 16 km / 10 miles
Difficulty in this section: Moderate
Included in the Choquequirao Trek 4 Days
Pick up at your hotel in the morning to start the trek
Private transportation from Cusco to Cachora (Start of the trek) and Cacchora to Cusco
Entrance to the Inca construction of Choquequirao and other Inca sites in the area
Professional English-speaking guide or the language you require
Comfortable tents for 4 people, only two people are accommodated for your comfort
Meals as indicated in the itinerary (optional vegetarian food on request)
1 horse of emergency in case you feel very exhausted and you can not walk
All equipment for the camp such as: dining tent, table, chairs, kitchen and bath tent
Camp tent for our staff
First aid kit including emergency oxygen bottle
Horses (for equipment and personal belongings) including riders
Thick foam mattresses
Private guided tour at each archaeological site
7 kilograms of your personal items such as extra clothing and sleeping bag will be carried by our mules
Boiled water for drinking and washing
Not Included in the Choquequirao Trek 4 Days
Sleeping bag that is suitable for areas where the temperature will be below 10 ° C
Inflatable mattresses for your comfort
Special walking sticks
Additional horses to carry luggage
Assignment of personal items
Tips for the cook, riders and guide
Packaging List Choquequirao Trek 4 Days
Backpack with protection for rain.
Clothing suitable for warm weather and cold with a waterproof jacket.
Rain pants and light pants.
Special hiking shoes.
Slippers or sandals (for showers and hot springs).
Wool or synthetic socks and a sweater.
T-Shirt Long Sleeve and Short Sleeve / T-Shirts.
Poncho for rain and sun hat.
Sunglasses with UV protection
Sunscreen, insect repellent, alcohol and gel disinfectant, water bottle and sterilizing tablets, toiletries and toilet paper.
Camera (wrapped in plastic bag), flash light and batteries.
Some snacks like chocolate bars and dried fruit.
Original passport, original ISIC student card
Extra money in soles (s / 400.00 soles) emergency case and tips.
Since the weather can be very cold and mostly, your clothes – once it gets wet – do not dry out at night.
Additional photo camera, memories and batteries (We recommend a GoPro or Smartphone for being light and easy to carry)
Optional service you can hire:
for this 4-Days Choquequirao Trek you can rent these accessories in our office
An additional horse to carry your personal belongings: US $ 20.00 per day. A horse can carry up to 30 kg.
Sleeping bag: US $ 5.00 per day. Our sleeping bags are -18ºC-comfort (0ºF) and mummy shape and include a sleeping liner.
Stick light aluminum stick ($ 2.00 per day, per stick) Two sticks are recommended for difficult walks.
Thermarest Inflatable Mattress – $ 4 per day of travel
Individual tent supplement (if you do not want to share a tent) $ 25.00 per person
Combos & Upgrades: Combine with one of our tours for a complete Peru experience, try Comfort Camping or choose an Aguas Calientes upgrade.
Prices in Private Service
| Number of people | Price per person |
| --- | --- |
PRICE Choquequirao Trek 4 Days – US$537 per person
Personal porter included!
***This price includes the extra porter who will carry your belongings up to 7 kgs,  we will provide you a duffle bag you can put your things.
DISCOUNTS
Group of 5 or more: US$30. – All you need is to book the trek together at the same time.
EXTRAS
Sleeping Bag – US$20 per person per trek (It will be clean and warm)
Air Mattress – US$20 per person per trek (Therm-a-rest mattresses)
Walking Poles – US$15 per pair per trek (Professional Poles that can be extended)
Personal tent: US $30 – (Please request when you book your Trek)
ADDED VALUES  FOR FREE
TRANSFER – from the Airport to Hotel (Cusco Only)
DUFFLE BAG AND TRASH BAGS – included in the trekking price!
EXTRA PORTER is included in the price, the porter will carry your belongings up to 7 kgs /14p like sleeping bag, mattress, clothes etc.
BOILED WATER is included along the Inca Trail.
OXYGEN TANK will be available along the trek
EMERGENCY HORSE is included in the price which can be riden if you get tired or sick.
Is it necessary to worry about «altitude sickness»?
Because Choquequirao has a «warm-temperate» climate it is unlikely to suffer from altitude sickness or «Soroche» but if this were to occur we can drink the Mate de las Hojas de Coca which is highly regarded for its healing and relaxing properties.
To make the tour to Choquequirao is a unique and unforgettable experience, since it is a challenging, amazing and real adventure, we will know the ancestral wonders of the Incas accompanied with the satisfaction of feeling fulfilled at the end of this walk. To have an even more enjoyable and safe experience don't forget to contact Andean tu Treks for your next vage
Choquequirao Trek 4 Days.- Choquequirao, the so-called CRADLE OF GOLD, shows its imposing print on a hill at 3100 masl. Its stone walls do not have the fine finish of the temples of Macchupicchu but the seal of the Incan engineers is unmistakable.
They usually start with a bus or van from Cusco to the town of Cachora (Abancay), where the dusty 30 kilometer path leads to the mysterious citadel, located on top of a green and powerful mountain At 3,085 masl
Choquequirao is composed of nine sectors, among them the religious political center, the system of fountains and channels with aqueducts, and the group of covers. It is very necessary to emphasize the religious character of this complex. The architecture is distributed around an esplanade or main square, and is complemented by a very well preserved agricultural andeneria system. The ancient archaeological centers are distributed in the lower part of the Choquequirao hill and are grouped as small villages, separated from each other, following a probable function criterion and social rank.
The archaeological complex is located in the lower part of the mountain or jungle brow, to the northwest of the Apuricmac Canyon.It houses a very unique flora, which is represented by an abundance of jungle-like vegetation. The climate of the area is warm, alternating with cold temperatures, as evidenced by its diversity of fauna and flora. These geographical conditions were exploited prodigiously by the Incas.
Even today, the day is long, but for the growing and overwhelming numbers of people who love challenges, it will be all that is expected. Undoubtedly, one of the best trips that you will never forget in your travels!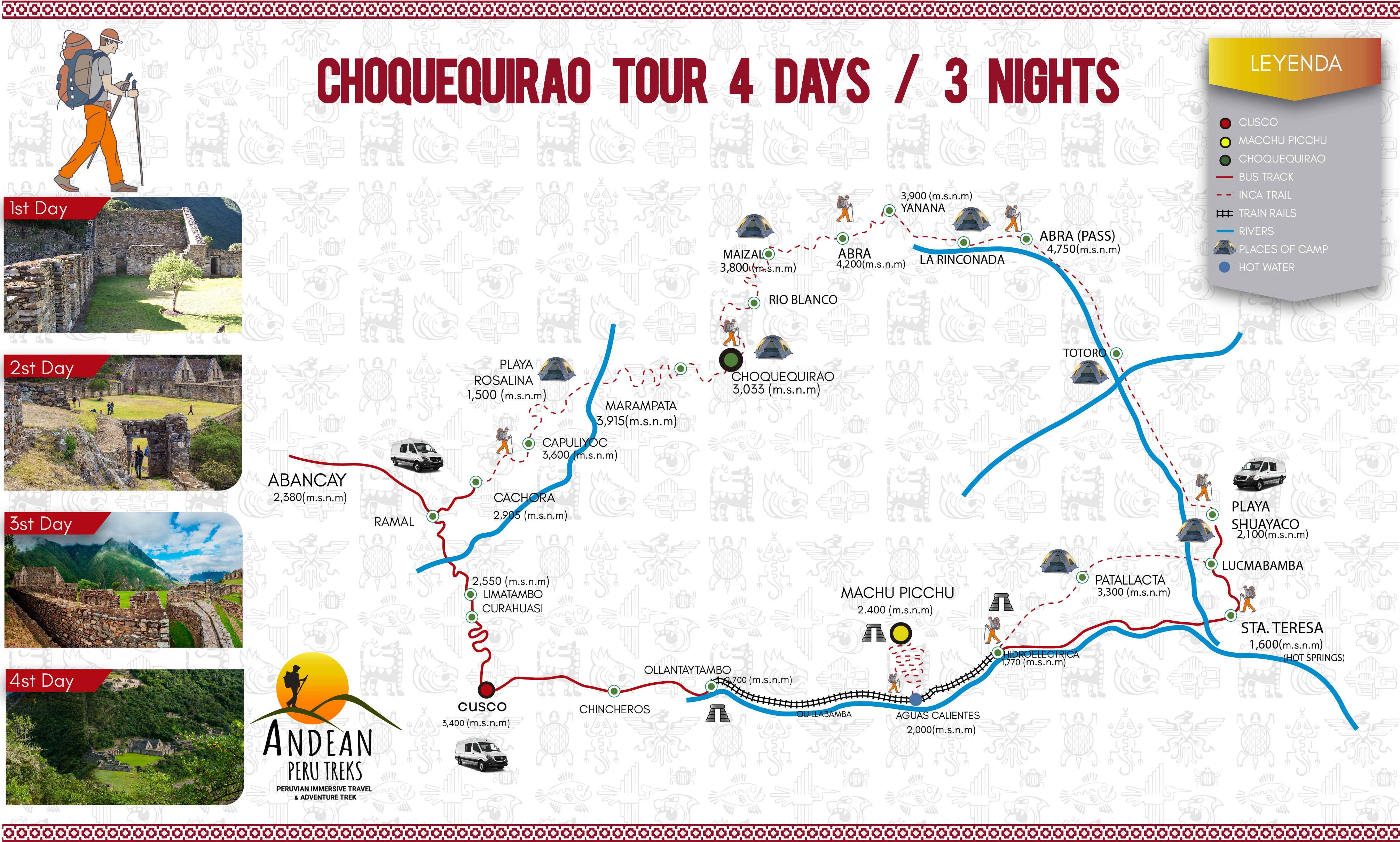 Thank you for choosing this 4-Days Choquequirao Trek